Front Page
Nip in the air signals approach of Murphy Maize Days
Sep 24, 2013
Murphy, Texas -- That unmistakable drop in temperature not only signals the conclusion of summer and the approach of fall, but it also announces the arrival of the annual Murphy Maize Days festival, according to Kayla Story, Recreation Coordinator.
"The welcome coolness in the air sends that particularly distinctive message to area residents that fall is coming and Maize Days is upon us. The excitement at City Hall is growing every day, as crews work hard to get the Municipal Complex ready for the day's events. It's a fun time," she said.

Murphy Maize Days is set for Saturday, Sept. 28, starting at 8 a.m. with the A-Maize-ing 5K and Fun Run, and ending with a return of the fireworks finale at 8 p.m. Free parking at Murphy Marketplace and Tom Kimbrough Stadium is available and shuttles will begin ferrying people to and from the festival and the two parking locations at 9:45 a.m. continuing until after the last of the fireworks extinguish.
Families who've attended Maize Days in the past will recognize many of the familiar popular attractions, but they will also be treated to some new and exciting additions. Constant entertainment, either in the form of live music or a wide variety of other types, will be virtually non-stop at either the KHYI 95.3 The
Range Main Stage or the Ballard Street Community Stage.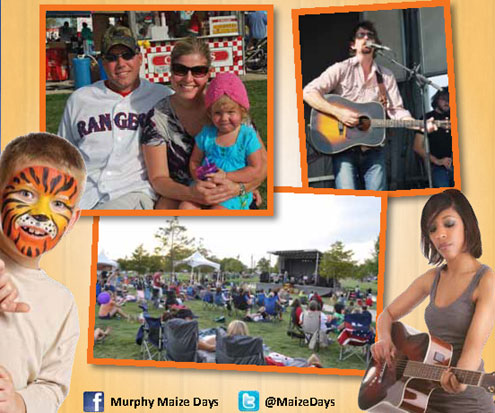 The food court will provide an assortment of culinary delights, the Maize Market will again provide shopping opportunities for those one-of-a-kind gifts and articles, the Kid Zone is set to surpass the
expectations of every kid, and the Pet Adoption area, with its micro-chipping service, will use the allure of our four-legged friends to attract visitors.
Vehicle enthusiasts will marvel at the cars, trucks and motorcycles on display, and the fireworks timed to music in 3D will send everyone home simply amazed. Commemorative T-shirts will be on sale for $10 and an ATM will be on-site for everyone's convenience.
"We've taken the best from previous festivals, and added some can't-miss attractions to this year's event. We're very confident that we have something for every member of the family," added Story.



ABOUT MURPHY -- Murphy is a fast-growing community located in Collin County. The population is approximately 18,020, generally characterized as highly educated with a median household income above the state average. With more than 70 percent of the land developed, the community is dominated by single-family residences. Determined to maintain a country living ambiance, city planners strive to preserve that feel while still exhibiting an aggressive economic development stance. The centrally-located municipal complex includes four buildings that house Fire, Police,
City Administration and Public Works. Money Magazine has dubbed Murphy as the 27th Best Place to Live in America for small cities.