Columnists
The plots thicken: Potluck. It's what's for dinner
Sep 29, 2013
Luciano Pavarotti said, "One of the nicest things about life is the way we must stop whatever it is we are doing and devote our attention to eating."
Down-home goodness, salt-of-the-earth people, and deviled eggs are calling your name. While the second annual Willow Wild Cemetery Dinner on the Ground, scheduled for Saturday, October 19, at 12 noon, may or may not be considered "dinner," it will definitely NOT be on the ground---we'll have tables, tailgates, and balancing laps. Besides the larrupin' food, you'll have a chance for all the socializing you can stand.
Dinner on the ground in the horse-and-buggy days promised a bountiful potluck feast nestled in boxes, tin tubs, splint baskets and trunks. Ice was practically nonexistent so everybody went to the spring under the hill for a drink of water after the meal and farther into the woods behind the graveyard if they had to answer the call of nature.

This horse and buggy photo was taken in Willow Wild---year unknown. photo courtesy of Fannin County Historical Museum
If ice was available, it was carried as a solid piece and wrapped in heavy flannel. Mrs. M.W. Ellsworth wrote this instruction in her book, Queen of the Household, in 1900: "Carry an icepick with it, so that it may be broken up when needed, with as little waste as possible."
At the turn of the century until after World War II, dinners on the ground served an important social function for people who lived miles apart. The cemetery gatherings also functioned to bind people together as a unit. Distances have been shortened by cars, but dinners on the ground continue to be a binding force that some feel is ever more important as people's lives become busier.
A typical picnic menu back in the day consisted of cold fried chicken, peanut butter sandwiches, paper sacks full of Saratoga chips, potato salad in fruit jars, several kinds of jellies with homemade bread and freshly-churned butter, chocolate cake, apple pie, deviled eggs, and a crank-style freezer of strawberry cream. Men stood in the middle of duck trousers, which encased their Merino wool long johns, and women wore jaunty shirtwaist ensembles, complete with bonnets. In Book of Household Management, Isabella Beetin wrote: "Ladies were not expected to hold their parasols while eating."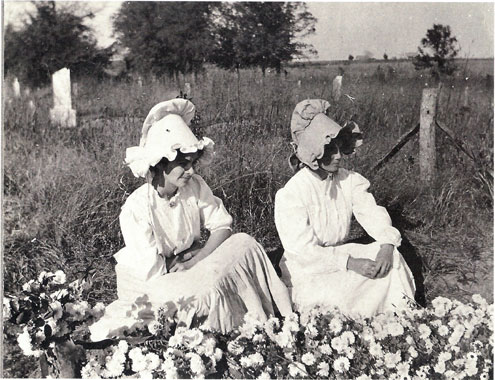 Neither the cemetery nor the identity of the girls in the "bonnets" photo is known. photo courtesy of Fannin County Historical Museum
The long-accepted and still-practiced dinner-on-the-ground tradition that everybody must eat until they are absolutely stuffed has evolved into light-hearted teasing: "Are you coming back for seconds already?" and "Gluttony is a sin, Brother, so I'll save you from sin by eating that last piece of pie for you."
Emma Paddock Telford wrote New York Evening Telegram Cookbook in 1908. She said, "Use waxed paper for wrapping sandwiches and other foods and use paper plates and napkins for service. Paper cups, paper and tin picnic forks and spoons may also be packed. A thermos bottle is almost indispensable. Individual drinking cups should be included in every picnic basket, and the new paper collapsible cups that now come for three or four cents apiece solve the question that was erstwhile a perplexing one. Paper napkins and tablecloths, a whole set consisting of a fancy cloth 42"x56" and a dozen napkins to match, put in stout envelop cases, may be bought at ten cents for a set."
What to Have for Luncheon, published in 1904 by Mrs. Mary J. Lincoln, states: "Plates made of wood as thin as pasteboard are cheap and especially convenient for picnics and travelers, where no table is procurable; and a cheap knife, fork, and spoon add little to the weight but much to one's comfort."
Don't let the word "potluck" scare you. The newly-formed Willow Wild Cemetery Association will be providing brisket, paper goods, and water. All you have to bring is a side dish or dessert. Oh . . . and a lawn chair.
Here are some pointers for the attendees: Get in line early and often; save room for the best stuff; and if you encounter two or more versions of the same casserole, opt for the dish that's most empty. You can be sure that each "bringer" will watch the tables like a hawk and will be tickled pink if her casserole is emptied first. If there's a dish with a lone sympathy scoop taken from it, you can make some lady's day by giving it a try.
You'll be able to help the Willow Wild Cemetery Association get a head-count by letting them know you're coming. Just drop them a line at P.O. Box 159, Bonham, TX 75418 or go to www.dinnerontheground2013.eventbrite.com.
Willow Wild's Dinner on the Ground reminds the families that they are part of a specific cemetery with a definite tradition. In short, we sit down, we eat lunch, and we interact as members of a family. And go ahead---count your deviled eggs before they're filled.
(Photos courtesy of Fannin County Historical Museum)