Lifestyles
Volunteer event at Hagerman National Wildlife Refuge Sept. 29
Sep 29, 2013
Enjoy meeting people, interested in nature, willing to learn new tasks and have basic computer skills? Want to volunteer in the Visitor Center at Hagerman National Wildlife Refuge? The Refuge will host the Fall 2013 Volunteer Orientation and Training, on Sunday, September 29. The session, which will start in the Visitor Center at 1:00 p.m., will be open to any adult and to teens 16 and over, accompanied by a parent, who is also interested in volunteering. Those attending will receive an overview of the Refuge and the part played by volunteers who serve in the Visitor Center, as well as a tour of the Refuge.
Visitor Center volunteers greet visitors, distribute maps and literature, give information to enhance the visitors' experience at the 11,000 acre Refuge, and make sales in the book and gift shop. Weekend and weekday shifts are available, with flexible scheduling. Couples may choose to work together. The orientation session will end at 5:00 p.m. and be followed by a hot dog supper at the Refuge. Please RSVP by calling the Refuge, 903 786 2826, or emailing friendsofhagerman@gmail.com, so that adequate materials are on hand for the meeting.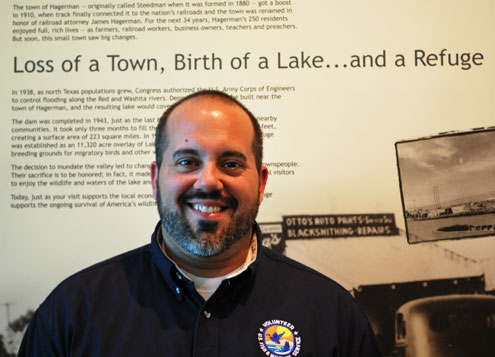 Kevin Updegrove
Hagerman National Wildlife Refuge is located at 6465 Refuge Road, Sherman, Texas, on the Big Mineral Arm of Lake Texoma.