Front Page
Kathryn's Texas Kitchen
Sep 22, 2013
The world's most popular seafood is shrimp. Across the world, millions of pounds are farmed or caught each year. Their water habitat includes both salt and freshwater. There are many varieties from which to choose and in many sizes. Shrimp are sold by the number per pound – 10 count being the largest shrimp and 50 to 60 count being the smallest shrimp.
In some parts of Louisiana they cook a shrimp boil just like a crayfish boil. They add potatoes and corn on the cob. The shrimp go in at the very end because they take just a few minutes to boil. When the boil is done it's poured on tables lined with newspaper and everybody eats right off the newspaper. This eliminates the need for plates. Discarded tails, peels and cobs are left on the newspaper. When everyone is finished eating the newspaper is rolled up making for an easy clean up.
My favorite shrimp are those caught fresh from the Gulf of Mexico. I'll never forget one time when I lived in Houston. I was finishing up a pipeline safety audit in the Kemah area. On Friday I took my ice chest and bought 10 pounds of fresh shrimp from a shrimp boat. The next day I proceeded to dehead and peel the shrimp to freeze them. It literally took me all day to get those shrimp prepared and frozen. My hands were raw by the time I finished. I learned a lesson. I'll never do that again unless there are several helpers. My next trip home to Bonham, Mother was very happy to get her share of the frozen shrimp.
Louisiana Boiled Shrimp
Recipe adapted from Breakfast at Brennan's and Dinner, Too by Pip, Jimmy and Ted Brennan, Proprietors
Ingredients
1 gallon water
3 large lemons, halved
2 large bay leaves
1½ tsp cayenne pepper
1½ tsp black pepper
5 TB salt
2 garlic cloves
1 3 oz bag of crab boil (optional)
3 lbs medium shrimp
Other Items Needed
Measuring cups and spoons
Cutting board
Chef's knife
Stock pot
Colander
Pot holers
Instructions
Bring 1 gallon of water to a boil in the stock pot. Add the lemons, bay leaves, cayenne, black pepper, salt, garlic and crab boil. When the water returns to a boil add the shrimp. Boil the shrimp for 5 to 8 minutes. Drain in the colander. When cool enough to handle, peel and devein. For dipping the shrimp serve with your favorite cocktail orremoulade sauces or melted butter. And have lots of napkins on hand.
Kathryn's Texas Kitchen cooks up an appetizer to eat while watching football.
Until next time…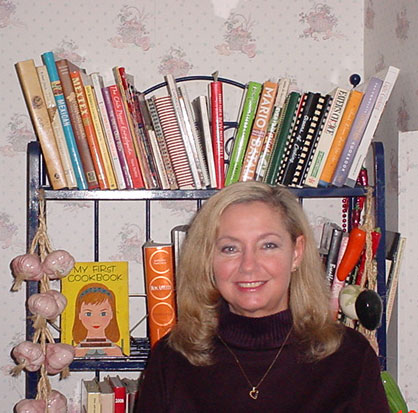 Bon appétit!