Front Page
Sherman Community Players present I'm Herbert Sept. 21
Sep 21, 2013
Written by Robert Anderson
Directed by Ron Cassady
Starring: Dick Malnory and Nancy Cassady
The Sherman Community Players present I'm Herbert this Saturday in celebration of the thirty-first annual Sherman Arts Festival. Returning to the Finley Stage are the stars of the fifteen-minute sketch comedy Dick Malnory and Nancy Cassady.
The story is about two older people sitting on a porch in a pair of rocking chairs and talking. Just talking—and of course they don't know how funny they are. Each has had one or more previous marriages and perhaps a few flings, but they are hazy as to details. In fact, they don't always know which one the other one is.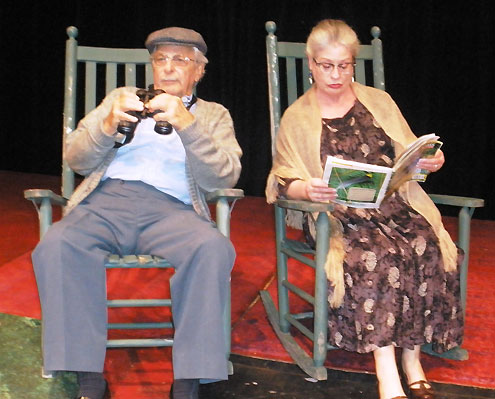 Dick Malnory and Nancy Cassady
Coming out of retirement to direct the production is former longtime Managing Director of SCP Ron Cassady.
I'm Herbert will play for three performances only this Saturday, September 21 during the Sherman Arts Festival; show times are 11:00 a.m., 1:00 p.m., and 3:00 p.m. There is no charge for this special event performance.