Lifestyles
Wales Manor presents: Texas music & Mark Twain under the stars!
Sep 21, 2013
A concert and play featuring Texas singer/songwriter, R.D. Foster & Texas TV & film actor, Jerry Biggs
Last year Money Magazine named McKinney the 2nd best place to live in the United States.
Wales Manor is going to show you another reason why - two McKinney natives, who have traveled the world performing, now together on one stage.
Jerry Biggs was born in McKinney, Texas, and became interested in acting while studying drama at McKinney High School. Majoring in theater and speech at East Texas State University, he went on to perform in 15 major motion pictures and over 50 television shows. Having worked with world-renown directors, actors, and writers, Jerry also spends much of his time speaking at public schools and universities about acting as a craft and profession. Jerry is probably most known for his role as Roy Scruggs in the blockbuster television miniseries Lonesome Dove. His most recent film roles are with Matthew McConaughey, Jack Black and Shirley McClain in Bernie; Miriah Carey in Tennessee and Anna-Sophia Robb in West Texas Lullaby.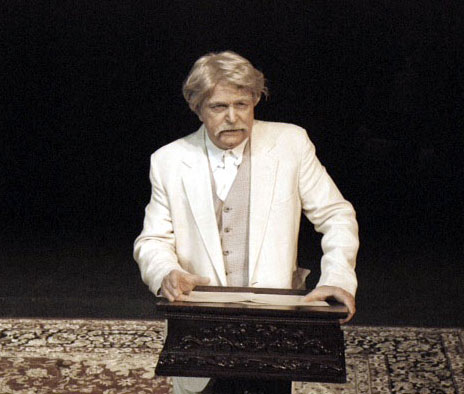 Jerry has toured extensively over the years with his critically acclaimed one-man show Mark Twain (which he will be performing). Some of the movies and television shows Jerry has performed in include: Silverado, Alamo Bay, Tender Mercies, Walker Texas Ranger, Lonesome Dove, Bed of Lies, Heaven and Hell: North and South Book III, and many others.
http://www.youtube.com/watch?v=uKPsB3YsbQk
R.D. Foster was born on a cotton farm in Collin County, Texas, and became interested in guitar and songwriting while a student at McKinney High School. After serving as a US Marine, R.D. came home from Vietnam with plenty of heart-felt things to write about and became one of the premier songwriters of the Texas Music Revolution of the late 1970s, helping create a new style of country music that shattered the Nashville mold. During the '80s his songs could be heard on just about any juke box in Texas and all across the country.
R.D. has written songs and performed on stage with numerous recording artists, such as: Ray Wylie Hubbard, Bugs Henderson, Will Barnes, Maynard Ferguson, Wilie Nelson, Rusty Weir, Jerry Jeff Walker, Delbert McClinton, Johnny Rodriguez, George Jones, The Fabulous Thunderbirds and many more. In recent years, RD has become known as a prolific author, having written numerous newspaper and magazine articles, one novel and one history book chronicling the twenty-one young men from his home of Collin County, who died in the Vietnam War. His latest novel, The Honky Tonk Life, or Put a Flashing Neon Light on my Tombstone, about four young musicians who take on the Nashville music scene of the mid- 1960s, is scheduled for release in late 2013.
http://ronniefoster.com/ronnie%20page/rdf%20music.htm
WHEN- Saturday, September 21 - 7:30 p.m. -10:00 p.m. Suggest you arrive by 7:00 p.m.!
WHERE- Wales Manor, McKinney TX. http://www.walesmanor.com/
COST- $20 per person (under 12 free).
DETAILS- Bring a lawn chair (winery tables/chairs are very limited and go fast). We suggest you arrive by 7:00 p.m. And do not forget- NO OUTSIDE BEER, WINE, LIQUOR, or BEVERAGES! We will be selling wine, sodas and water. We will also have PIZZA! (Come Hungry) WE ID!
NO DOGS/PETS! We are serious about this. We recently had a bite incident at Wales Manor! NO EXCEPTIONS!
IF YOU HAVE A CAMERA--BRING IT! We want posts on Facebook/Twitter and You Tube. Let's introduce the world to Wales Manor and TEXAS MUSIC!
FUTURE SHOWS AT WALES MANOR:
Saturday, October 19th. 7:30-10:15 Song-Swap with Jon Christopher Davis and Special, VERY Well Known, National Touring Musical Guest (will announce mid September). This will be a DO NOT MISS SHOW! $15 entry.
Saturday, November 2nd. 7:30-10:15. Brad Good (He is taking TX and OK Red Dirt Country Music by Storm!). All profits go to the Collin County Animal Shelter! COME SUPPORT THIS ORGANIZATION! $10 entry
Some of the accomplishments of Bands that played Wales Manor. X Factor Contestant, Oklahoma Blues Hall of Fame, Official Band for State of TX (Dept of Tourism), 3 Platinum Records, 11 Gold Records, 2 Time Grammy Winners, 7 Grammy Nominations, 10 Grand Ole Opry Appearances, 3 Shows on National Television.
McKinney's Best Kept Secret Is Out!
THE BEST LITTLE WINEHOUSE IN TEXAS!
(finding us is half the fun!)
DIRECTIONS: Go to www.walesmanor.com OR- From Hwy 380/Hwy 5 intersection in McKinney, Go 2.0 miles east (towards Princeton) on Hwy 380. Turn Left FM 1827 for 1.8 miles (New Hope). Turn Right on CR 408 (Top of hill). Go 1mile on CR 408. Wales Manor is on the right. 4488 County Road 408, McKinney, TX 75071
OR keep it simple, come while the sun is still up and follow the signs from HWY 380!
Help Support These Music Events/Shows In Our Community.
We specialize in Weddings, Birthday Parties, Corporate and Special Events. Come see why over 10,600 folks visited Wales Manor in 41 days during 2012.