Front Page
Frontier Days in Pottsboro - fun for the whole family!
Sep 28, 2013
Pottsboro's annual Frontier Day Celebration will be held in Friendship Park on Saturday, September 28 from 9:00 a.m. - 3:00 p.m. with a parade beginning at 10:00 a.m. Get the family together and come down to Friendship Park on FM 120 in Pottsboro, located between the Pottsboro Chamber of Commerce and Landmark Bank. Stroll among the many arts and crafts booths and sample the Food Court for great food from some of our local establishments. As always, there will be plenty of children's activities.
Next to the vendor area will be the Carnival, open in the evenings on Thursday, September 26 and Friday September 27 for "Wrist Band" night where the kids can enjoy unlimited rides for only $20. On Saturday, the Carnival opens at 10:00 a.m. for tickets only.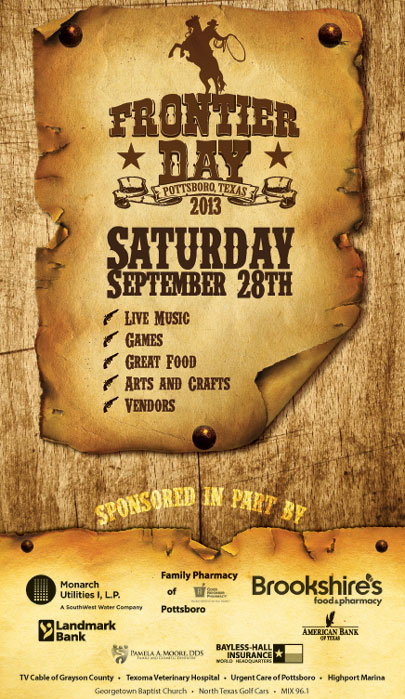 Parade registration forms are available on the website and should be returned by Tuesday, September 24 to the Pottsboro Area Chamber of Commerce by mail (P. O. Box 995, Pottsboro, TX 75076), Fax (903) 786-4965, or emailed to info@pottsborochamber.com.

Each year an average attendance of over 7,000 people, exhibiting over 100 arts and crafts vendors and food vendors for visitors gather in Friendship Park. Live entertainment will be provided throughout the day and Water Walker will be returning again this year.
Frontier Day honors early Americans who blazed the Shawnee Trail, the cowboys who drove vast herds of cattle over it, and settlers who stayed to grow and prosper. A Shawnee Trail Ride was first held in l960 for the 75th State Fair of Texas in Dallas and revitalized appreciation of Pottsboro's roots. That appreciation grew into today's celebration. Come on out and experience it for yourself! For more information, please go to www.pottsborochamber.com or call (903) 786-6371.