Local News
Grammy nominee Stephen Wade coming to Denison
Oct 3, 2013
On Thursday, October 3 at 6:00 p.m., the Denison Public Library will host a very special book presentation and book signing. The evening, featuring author, musician, and 2013-Grammy nominee Stephen Wade, explores via live music making, projected slides, and spoken narration of The Beautiful Music All Around Us: Field Recordings and the American Experience (University of Illinois Press, 2012).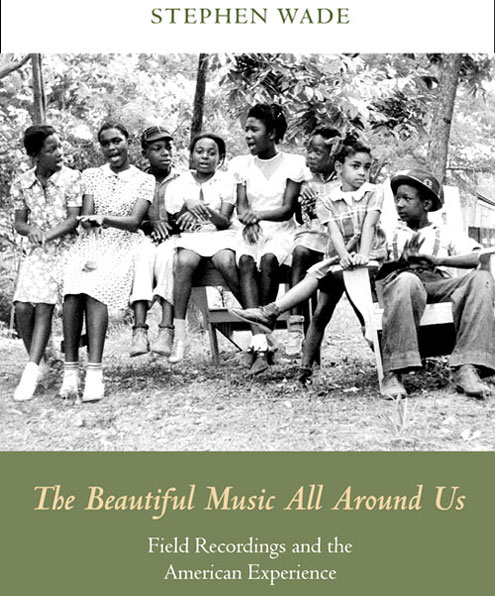 Wade's landmark book explores the extraordinarily rich back stories of thirteen performances captured on Library of Congress field recordings between 1934 and 1942. One of them includes Mississippi Delta native, gospel singer Bozie Sturdivant, who lived out his life in Denison. The October 3 program at the library, anchored in Sturdivant's experience, brings his story back to our community, attesting indeed to beautiful music all around us. To ensure a seat at this event, please pick up an admission ticket at the Library's Information Desk.
The Seattle Times has described Stephen Wade as "a passionate conservationist, a beguiling entertainer, and an American original in his own right." Time magazine has called him "a wondrous artist."
More recently, writes Richard Harrington in the Washington Post, "Wade is a master at creating compelling narratives that entertain and inform."
This appreciation extends to Terry Teachout writing this past fall in the Wall Street Journal, who called Stephen Wade's book "a masterpiece of humane scholarship--but one that reads like a detective story."
Stephen Wade grew up in Chicago, where, as a youngster exposed to a number of musicians who hailed from the Mississippi Delta and the Southern Appalachians, he developed a passion for traditional music and American folklore. In the early 1970s, inspired by the legendary Library of Congress series of folk music field recordings, Wade began travelling to the communities where these recordings originated, seeking out surviving musicians and immersing himself in their surroundings. That contact led to his first stage show, Banjo Dancing, which opened in Chicago in May 1979. It ran sold-out for thirteen months, and merited national attention, including an invited performance at the White House.
In January 1981, he came to Washington, D.C.'s Arena Stage, where his engagement, initially booked there for three weeks, extended into a ten-year run. In 1989, On the Way Home, Wade's second critically acclaimed production, opened at Arena.
Following those runs, he toured both shows nationally including repeat engagements in Dallas, Ft. Worth, and Austin. In 1994 he also launched in Texas his work on the book, a research process that extended over the next eighteen years. In the wake of its publication in September 2012, he has been named 2013-2014 Resident Artist/Scholar at George Washington University, as well as 2013 George A. Miller Visiting Scholar, Center for Advanced Study, University of Illinois.
Wade's essays, reviews, and articles have appeared in such publications as American Music, ARSC Journal, Encyclopedia of Appalachia, Studies in Popular Culture, Encyclopedia of Chicago, Musical Quarterly, American Archivist, Southern Quarterly, Journal of Country Music, New Letters, Beloit Magazine, Folklife Center News, Chicago Tribune, and the Washington Post's Book World. He also edited and annotated the Rounder CD collection that gave rise to this book, A Treasury of Library of Congress Field Recordings. Since 1996 his occasional commentaries on folksongs and traditional tunes have appeared on National Public Radio's All Things Considered and Morning Edition. He has recorded and/or produced over a dozen albums, the most recent of which is Banjo Diary: Lessons from Tradition (Smithsonian Folkways, http://www.folkways.si.edu/stephen-wade/banjo-diary-lessons-from-tradition/american-folk-old-time-bluegrass/music/album/smithsonian).
Additional reviews of The Beautiful Music All Around Us have included:
"Offers an understanding not only of a musical thread vital to American culture, but of America itself."--Publishers Weekly
"A treasure trove of scrupulous research and on-the-road reportage."--The Wall Street Journal
"These stories and the recordings — capturing the voices of everyday people, not pop stars — simply crackle."-- Los Angeles Times
"Superbly illustrated and with a hundred pages of notes and bibliography, The Beautiful Music All Around Us is at once an essential reference work and a thoroughly enjoyable book."--Times Literary Supplement
"As compelling as a good detective story, this investigation of field recordings of a bygone era will be embraced by music fans. This book reminds readers that they don't need pop icons to experience passionate music."-- Library Journal
"Astonishing. . . . These stories are compelling, moving and revelatory."-- Chicago Tribune
More information on The Beautiful Music All Around Us can be found at: http://www.press.uillinois.edu/books/catalog/55qpr7zm9780252036880.html
For more information on this upcoming book presentation event, please contact Associate Director, Laura Haworth at 903.465.1797, ext. 2062.