Columnists
Let's Reminisce: Used car dealers
Sep 21, 2013
Several times I have read that the American public rates Congressmen lower than used car salesmen. Then last week I read an obituary for Cal Worthington, a car dealer whose extravagantly entertaining commercials had made him legendary as well as extremely successful. It made me think about one of my early encounters with a skilled car salesman and dealer.
At the age of eleven, I accompanied Daddy to Groesbeck with a load of watermelons in our 1949 Ford pickup. It was one of those rare years when our farm income looked promising, so after selling the melons to a trucker we went by the Ford house. We were just looking, of course, but Mr. Lyle sort of insisted on making Daddy an offer to trade in our old truck for a brand new sky blue half-ton that I fell in love with.
Daddy felt safe in saying he'd like to buy that truck and indicating we'd come back after checking with our banker in Franklin. Before he knew what was happening, Mr. Lyle had him talking on the phone with Mr. Mauk in Franklin. The loan was agreed to, and I went out to sit in the handsome truck and pretend to drive it while all the papers were signed. The end of that story is Mother was not happy when we got home in the new truck. In fact, I now see that my lifelong tendency to avoid conflict might have begun to flower at that point in time.
I don't think Mr. Lyle or any of the other local dealers were advertising on radio or TV in the 1950s, when Cal Worthington discovered that off-the-wall commercials were his ticket to fame and fortune. Among his many gimmicks, my favorite was his answer to a competitor's ads that featured a dog. He rustled up a gorilla and told the audience: "Howdy, I'm Cal Worthington and this is my dog Spot. I found this little fella down at the pound and he's so full of love."
Spot came back as a hippo, an iguana and a snake, but never a dog. I also admire the fact that Cal wrote his own theme song, with this chorus (set to the tune of "If you're happy and you know it … )
If you need a better car, go see Cal.
For the best deal by far, go see Cal.
If you want your payments low,
If you want to save some dough,
Go see Cal, go see Cal, go see Cal.
The wild and crazy nature of Cal's ads made him a folk hero in California and an icon of popular culture. He became a frequent guest on "The Tonight Show," where Johnny Carson performed ad parodies.Although he eventually owned 29 dealerships, from San Diego to Anchorage, Alaska, Cal had a car of his own — he simply borrowed one from the lot.
That last detail brings to mind Mr. Sam Rayburn's 1947 Cadillac, on exhibit at the Rayburn House in Bonham. The story of how he acquired it, after losing access to the limousine provided for the Speaker of the House, will have to wait for another column.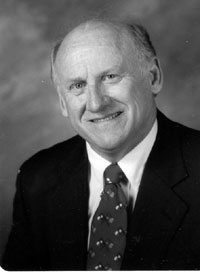 A retired English professor, Dr. Jerry Lincecum teaches classes for older adults who want to write their life stories. He welcomes your reminiscences on any topic: jlincecum@me.com