Front Page
TAPS sets new single-day record for system trips: 3,580
Sep 12, 2013
When the cut-off time for next day rides arrived at 3:00 p.m. on Wednesday, September 4, TAPS Public Transit's Get-a-Ride Call Center tallied the numbers. The official volume of individual on-demand, curb-to-curb delivered trips was at 1,448: a single-day record. Added to the number of passengers moved on all system routes across the agency's 7-county service area, the final total was 3,580 trips—an all time overall record in the agency's 27-year history.
Every ride provided by TAPS Public Transit allows a citizen to get to work, go to school, keep a medical appointment, go shopping —offering mobility when circumstances make transportation an issue, or providing a more efficient commute.
Brad Underwood, TAPS CEO and Executive Director, said there are always signs that it's going to be a particularly busy day.
"As a rule Wednesday is our busiest day, but we were seeing large spikes in the number of calls very early in the day that forecast unusually heavy volume for our call center and our drivers," said Underwood.
Timing is everything. The night before, a crew of engineers at TAPS's Sherman headquarters completed the first phase of a major upgrade to the call center's communications system. When the call volume built on Wednesday, the system was feeling no pressure.
Although Collin County service is now impacting TAPS resources, the number of scheduled riders in that service area was not appreciably out of line. In fact, on August 26, Collin County set its own record of 300 on-demand trips in a single day. TAPS initiated service to Collin County on July 1, 2013.
"It's no surprise that we are exceeding historical numbers in rider demand. We are covering more area, offering more services, and the economy is improving. That leads to more people working and more enrollment at local schools," said Underwood. "This incremental growth is expected and planned for."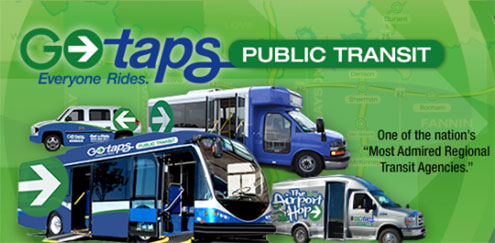 TAPS Public Transit serves a seven county area that includes Clay, Collin, Cooke, Fannin, Grayson, Montage and Wise counties. The agency provides on-demand, curb-to-curb transportation for any citizens in its service area. It also operates a number of fixed-routes including in the City of McKinney and along U.S. Hwy 75 between Texas and Oklahoma.