Lifestyles
The black and white world of Ken Bowser
Sep 30, 2013
Sherman -- When photographer Ken Bowser first laid eyes on Ghost Ranch in northern New Mexico, the soft hues of morning's early light were illuminating the haunting plateaus and red rock bluffs that have captivated artists and photographers since...well, as long as there have been artists and photographers.
It was love at first sight.
When Bowser discusses his black and white images now on exhibit at Austin College, it is obvious the attraction is still there.
Ghost Ranch is a sprawling 21,000-acre ranch owned by the Presbyterian Church with an enchanting landscape that also attracted inimitable black and white photographer Ansel Adams and held painter Georgia O'Keefe spellbound for decades.
O'Keefe owned approximately nine acres of what is now Ghost Ranch and her house is visible in one of Bowser's photographs on display at Austin College. "Ghost Ranch in Black and White" will be exhibited in Ida Green Gallery through November 8.
Bowser has a master's degree in photography from Ohio State University, so it seems only reasonable that he now teaches photography classes at Ghost Ranch, however that would be overlooking the magic of this part of the Southwest. Actually, as Bowser explained during a lecture Tuesday, September 10, his connection to the ranch was more a matter of serendipity than pedigree.
Bowser was working in a camera store in Santa Fe, New Mexico where one of the managers of Ghost Ranch happened to be doing a little shopping. Remembering his early-morning drive through the picturesque landscape, Bowser asked if he could visit the ranch. The gentleman from Ghost Ranch asked to see a portfolio of Bowser's work and was impressed. Bowser has been teaching landscape photography at Ghost Ranch for well over two decades now.
"I just walked into it," he says with a shrug.
The creative freedom Bowser enjoys at the ranch is his favorite perk.
"There's not a lot of people telling me what to do and there is not a lot of educational superstructure," explains Bowser.
For example, a light dusting of early-morning snow may be gone by noon, so Bowser might feel more can be accomplished by delaying a lecture so his photography students can capture images before the snow melts.
Bowser's 2014 course at Ghost Ranch is "Photography in the Desert - Going Retro: In the Footsteps of Ansel Adams (Literally). A number of Austin College students journey to Ghost Ranch every January Term to participate in courses such as creative writing, silversmithing, ceramics, yoga and photography.
In addition to the freedom this job offers, Bowser adds that he enjoys the camaraderie of the staff at Ghost Ranch.
"So, why black and white photography?" a budding photographer asks during a gallery talk at Austin College. "Is it the impact it has on the audience?"
The answer, as with his images, comes out in black and white.
"I don't care much about the audience," Bowser says with perhaps the slightest hint of a mischievous grin. "I do it for myself. I like the darkroom -- it's a personal choice."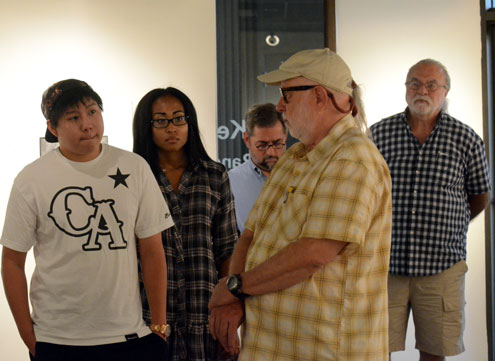 Ken Bowser visits with Austin College students during a gallery talk September 10.
Bowser has developed a particular bond with Cerro Pedernal and Chimney Rock, a pair of iconic images from northern New Mexico and he reminded the audience of a favorite quote of O'Keefe's about Perdenal: "I painted it often enough thinking that, if I did so, God would give it to me."
O'Keefe's ashes were spread from the top of her beloved Pedernal.
Bowser offered a key bit of advice that only a seasoned landscape photographer is likely to know.
"A landscape photographer should know where the sun will throw shadows in an hour, in two hours, in four hours," tipped Bowser.
His final statement was an indication that the quest to produce remarkable images is as strong as ever.
"I photograph something every day," said Bowser. "There are no days off."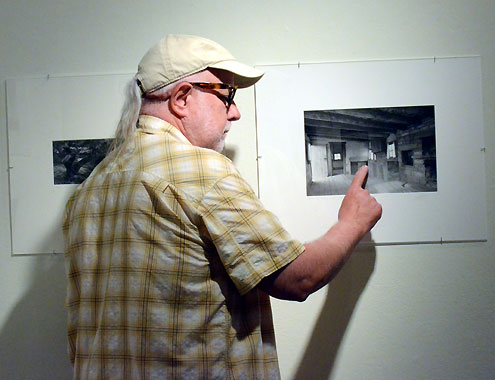 Ken Bowser points to an image he captured of Blackie Burnham's cabin on Ghost Ranch in northern New Mexico.