Local News
Ready to Rally at Kids Alley
Sep 18, 2013
Kids Alley at Rally 'Round Greenville on Saturday and Sunday, Sept. 21 and 22, offers thrills and skills to the younger set, while parents enjoy food, music and shopping.
A performance stage at Kids Alley, sponsored by Studio A Dance Company and GEUS, will feature dance, theatrical performances, music and maybe a few surprises.
Hunt Regional Medical Center and Keep Greenville Beautiful again team up to offer free kids activities.
Free bounce houses will occupy the 2800 block of Lee beginning at Wesley and continuing west where Water Walk Balls will also be located. Home Depot will provide the kids a lesson in how to plant trees, shrubs and flowers at The SPOT garden.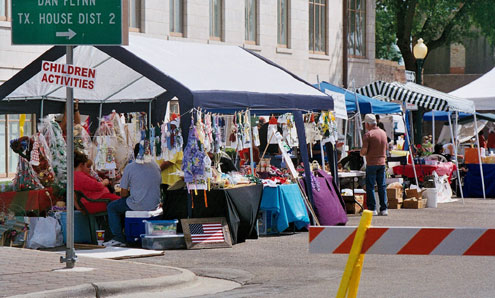 Kids or adults can sport a new look with Face Art by Judy, and then cheer on the Celeste Blue Devils Mini Cheer Squad.
Nearby, Greenville Independent School District will be showcasing both their award-winning RoboWranglers Robotics team, as well as the now-famous Iron Lion Solar Car.
Further down the festival zone, food and arts and craft vendors will offer some unique items, including a large display of unique, custom made "re-purposed" furniture by T and J's Good Pickins.
Bras for the Cause will have a special display, and the Landmark on Lee offers a sneak preview of their Haunted Landmark coming this October.
Habitat for Humanity will be hosting Casino Night in the Landon Winery Ballroom on Saturday night where an Art Show will also take place.
On the main Bud Light Stage on the Courthouse Square, Emerald City Band rocks the crowd with a street dance Friday night. Music continues all day Saturday on the stage culminating with a free concert with award-winning country music star Jack Ingram at 10 p.m.
Sunday Rocks is the theme on Sunday as area rock bands dominate from noon to 5 p.m.
Other elements of Rally Round Greenville include a BBQ contest benefiting Texas Wounded Warriors, the Cotton Patch Challenge Bicycle Ride and Hart's Hideout.
Rally 'Round Greenville is organized by the Greenville Convention and Visitors Bureau and made possible by sponsors Bud Light, Lake Point Imaging and Medical Center, Fritz Industries, Landon Winery, Alliance Bank, Studio A Dance Company, GEUS and Chaney Tobacco and Vape Station. A portion of the funding is also provided by City of Greenville hotel/motel tax revenues.
Media and in-kind sponsors include 104.3 FM The River, Friendlee 107, The Coyote, The Range, Ranch Radio, KETR, Herald-Banner Publications, The Hunt County Shopper, Hunt Regional Medical Center, Keep Greenville Beautiful and Home Depot.
Arts and Craft vendors and general merchandise vendors may still apply at www.rallyroundgreenville.com.
BBQ Cook-off entry forms are available at the same web address or by calling 903-455-1510.
All the latest festival news can also be found on the Rally 'Round Greenville Facebook page.