Local News
Second Saturday at Hagerman National Wildlife Refuge
Sep 14, 2013
September 14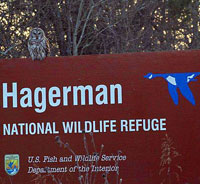 Rick Lynn, Grayson College geology instructor, will speak at Second Saturday at Hagerman National Wildlife Refuge, on September 14, at 10:00 a.m. Millions of years ago the Texoma area was covered by salt water; learn how and why things have changed since pre-historic times to create present day Texoma. Second Saturday programs are free and open to the public; the meeting will be held in the Visitor Center.

The Nature Photography Club will meet on Sept. 14 also, at 12:30 p.m. in the FOH Center at the Refuge. A program will be presented by John S. Mead, Blue Lion Photography. The club meets bimonthly and is open to anyone interested in nature photography. Visitors are welcomed, free of charge, there are nominal dues for membership.

Hagerman NWR is located at 6465 Refuge Road, Sherman, Texas, 75092, on the Big Mineral Arm of Lake Texoma.

For more information see friendsofhagerman.com or call the Refuge, 903 786 2826.