Front Page
Loretha Railes named Artist of the Month at Bonham City Hall
Sep 6, 2013
Loretha Railes has been selected as Artist of the Month at Bonham City Hall. Her work is on display at City Hall located at 514 Chestnut, Bonham, Texas. You can also stop by the Creative Arts Center located at 200 West 5th Street to see more of Loretha's work.

After completion of a bachelor degree at University of Texas at Dallas, Railes was accepted at The University of Dallas, Irving, Texas, on a full- tuition scholarship, where she earned the MA in Art degree and the MFA degree in Printmaking.

A long time watercolorist, Riales developed a real affinity for Printmaking - especially screenprinting and intaglio. In addition to printing metaphorical designs on fine, manufactured paper, she used her own handmade paper, particularly for the intaglio process of embossing. The imagery of Loretha's art is based on that of pieced quilts, and pays homage to creative women throughout history.

Railes' art has been exhibited nationally and internationally, and she was an active participant in the Metroplex art scene for over twenty-five years -- exhibiting, competing, teaching and giving gallery talks about her work. Loretha and husband Roy, moved from Dallas to Fannin County almost twenty years ago to enjoy country life and less traffic.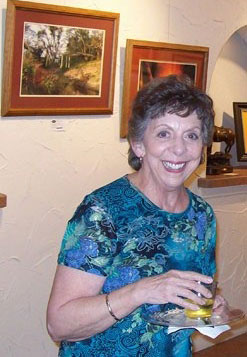 Congratulations to Loretha and thanks to the Bonham City Hall for supporting our artist.