Front Page
Kathryn's Texas Kitchen
Sep 8, 2013
Personally, I have never liked croutons and I donít know why.
I guess itís the same reason Iíve never really been a big fan of breads, even those fresh and hot from the oven unless theyíre served as a sandwich.
I think I inherited this from my mother as she has never been a bread lover either.
Now Daddy and my brother were a different story.
When my brother, David, was playing sports in high school, he would come home and fix a sandwich to eat before Mother had supper on the table.
Tomatoes have always been my first love. Iím always looking for new ways to fix them, especially in the summer when they are fresh from the garden. Hereís a recipe I found thatís not only tasty but healthy for you and a perfect summertime dish. And itís topped with croutons if you desire.
Fire-Roasted Tomato Soup
Recipe adapted from Weight Watchers Magazine, March/April 2013
Serves 4 (Per 1 Ĺ cups soup serving with ľ cup croutons 174cals, 5 g total fat, 1 g sat fat, 0 g trans fat, 0 g chol, 825 mg sod, 29 g total carb, 12 g total sugar, PointsPlus Value 4)
Ingredients
1 TB olive oil
1 diced onion
ľ tsp dried thyme
2 diced carrots
1 diced large celery stalk
2 chopped garlic cloves
3 14Ĺ-oz cans fire-roasted diced tomatoes
1 cup low sodium vegetable broth
1 cup fat-free croutons (optional)
Other Items Needed
Measuring cups and spoons
Cutting board
Chefís knife
Large saucepan with lid
Wooden spoon
Bowl
Food processor or blender
Ladle
Soup bowls
Instructions
Heat olive oil in the saucepan over medium-low heat. Add onion and thyme. Cover and cook, stirring occasionally until onion is tender. Stir in carrots, celery and garlic. Cover and increase heat. Cook, stirring occasionally, until vegetables are tender. Stir in tomatoes and broth. Bring to a boil. Reduce heat and simmer until vegetables soften and flavors are blended. Cool soup 5 minutes. Transfer 2 cups soup to bowl. Puree remaining soup in food processor or blender in batches as needed. Return puree and reserved soup to saucepan and reheat over medium heat. Ladle soup into 4 bowls. Sprinkle evenly with croutons.
Kathrynís Texas Kitchen serves up a healthy egg dish for one.
Until next timeÖ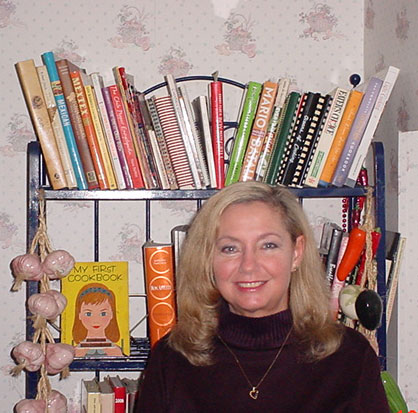 Bon appťtit!