Columnists
Crow's-Feet Chronicles: A hairifying experience
Sep 16, 2013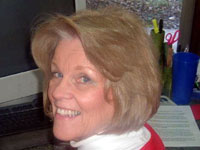 In the early sixties, when Big Hair was born, thanks to Jackie Kennedy and her enviable bouffant, many trade tricks were developed for hair enlargement. Singer Dusty Springfield ("Wishin' and Hopin'" and "You Don't Have to Say You Love Me") had a truly amazing coiffure featuring big "bouffs" in several locations on her head---front, back, top, and sides. It was an architectural wonder and the whole world of women was dead to copy it, and this included my friend Patti.

I have no idea how Dusty achieved her look---she had, after all, I'm sure, a team of hair professionals laboring night and day to maintain it---but the style inevitably trickled down to the aspiring fashion plates of a certain high school in Bonham, Texas---of which Patti was but one. She was a dedicated and very enthusiastically creative gal.

Patti found that by employing an ingenious combination of tools readily available even in Bonham, Texas, she could erect an almost exact replica of the coveted Dusty Springfield Bouffant on her very own personal head. The first item she needed was a couple of wiglets. Wiglets were an early incarnation of Travel Hair---small handfuls of hair that one could secure at various points on one's head to supplement the supply of hair growing naturally. They came in about four colors and looked vaguely reminiscent of hair, and so if you stuck it underneath some of your actual hair and combed over it, satisfactory blending could be accomplished and a desirable pouf achieved.

But even with the addition of three or four wiglets' worth of hair, Patti's hair could not be harassed into the desired height for the Dusty Springfield look. Through what I'm sure was much trial and error, Patti somehow made the unbelievable discovery that if she took an ordinary Kotex feminine napkin and pinned it to the top of her head, she could then cover it with a combination of her own hair and her wiglets and voila---she could pass for Dusty Springfield anywhere.

A word about the Kotex thing. They were huge---like loaves of bread almost. Minipads were decades away. Patti got away with this bizarre subterfuge for many, many months, to the mystified envy of all her friends. Her secret would probably have been safe for all eternity if she had just stayed off that roller coaster at the State Fair of Texas.

Uphill was fine but she lost one wiglet on the first downhill and one on nearly every subsequent scream-filled swoosh and turn. Of course, she and everybody else on the ride remained oblivious to the happenings on her head until they coasted back in to the starting point---where she arrived, "bouffless", wearing nothing on her head but a big fluffy white Kotex pinned very securely to the top of her head.

She got a pixie cut the very next day.