Lifestyles
Paris Community Choir seeking new members
Sep 11, 2013
The fourth season of the Paris Community Theatre's Paris Community Choir begins Monday, September 9, at 7:00 p.m. under the direction of Pat Fowzer. Rehearsals are every Monday evening at First United Methodist Church at 322 Lamar Avenue, in the Fellowship Hall, making for easier access for all singers.
The choir is preparing for the 25th anniversary season of the popular "Songs of the Season" Christmas concert to be held this year on Tuesday evening, December 3, at 7:30 p.m. in the sanctuary of East Paris Baptist Church. There will be some unique and new surprises on this year's concert to celebrate this musical milestone, which the audience and performers should find exciting.
There is room for all returning singers and more, whether from Paris or from the greater Paris area. Anyone who loves to sing the beautiful music of Christmas, will be satisfied with such favorites as "O Holy Night" and "Breath of Heaven". The choir will also be preparing a cappella Christmas favorites, some show tunes, a spiritual, and the traditional "Hallelujah Chorus" from Handel's Messiah. Some of the selections will be chosen to challenge the singers and yet allow them to grow in musicianship and musicality, under Ms. Fowzer's guidance.
PCC truly offers adults the ability to experience the gift of music. Rehearsals are a great way to learn, but they also help adults de-stress through the magic of singing in a choral group. These are just a few of the reasons that Paris Community Theater and its Board of Directors sponsor the Paris Community Choir. This year's corporate sponsors for the season are: Young Title Company and the Law Offices of Sydney Young.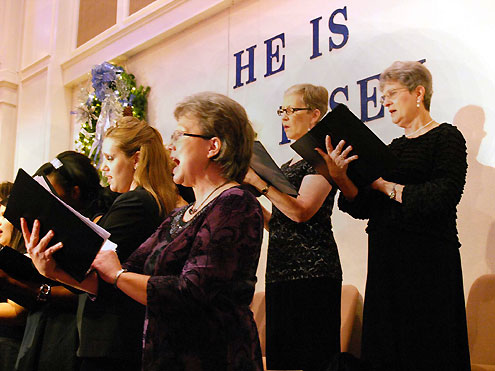 Questions about joining the choir may sent to Pat Fowzer at
pfowzer@gmail.com or just come to a rehearsal on any Monday evening at 7 p.m.