Front Page
Mart Means named Artist of the Month at Fannin County Courthouse
Sep 5, 2013
Mart Means has been selected as Artist of the Month at the Fannin County Courthouse. His work is on display at the Fannin County Courthouse located at 1203 East Sam Rayburn Dr., Bonham, Texas. You can also stop by the Creative Arts Center located at 200 West 5th Street Bonham, Texas to see more of Mart's work.
Mart, a native of Texas, graduated from West Texas State University with a Bachelor of Science degree in Fine Arts and then worked as a commercial artist.
Means began painting seriously in 1986, after moving to Bonham. Though probably most often associated with watercolor landscapes, he has recently discovered the versatility of acrylic and enjoys portraiture and the challenge of likeness.
Mart's exhibit history includes solo exhibitions at the Creative Arts Center in Bonham and Homestead Winery Tasting Room & Gallery in Denison, Texas. His work has been presented in several two-man and small group shows at the Finley Cultural Center in Sherman, and in private exhibitions at Little Louvre Gallery in Denison, Texas.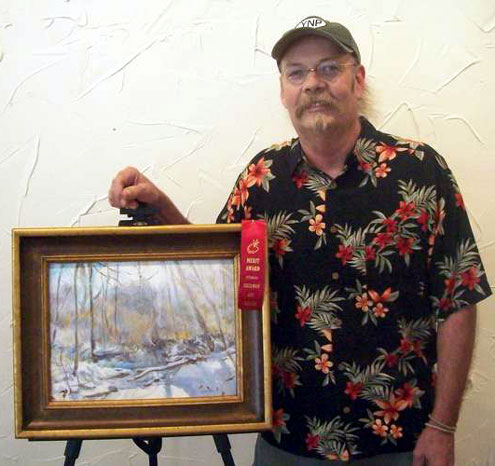 Congratulations Mart and thanks to the Fannin County Courthouse for supporting our local artist.