Front Page
A young woman's dreams
Sep 7, 2013
"I want to make people feel good," says Madison (not her real name). Madison is a 23-year-old with lots of dreams for her future and has gone to cosmetology college classes to be a nail technician and begin her dreams of making people feel good. She has graduated and is waiting to take her State Board certification tests soon.
Madison has a story that is different from many. She was born a healthy baby, but after one of the required infant immunizations, she ran a high fever, and then had a seizure that lasted 45 minutes. That moment in time changed her life and the life of her family forever. For the next twelve years she suffered with seizures. At twelve years old, the seizures were gone has soon as they started. She is seizure free now.
Her mother states, "Madison did not even try to take a step until she was two years old. She took her first step and kept on walking through the house, out the front door, and across the street. She was in special education classes all through school. She didn't learn to read until one of our friends was successful in teaching her and then she scores 92 on the beginner's driving test. There have been many other successes like these in her life. When she was younger, she diagnosed to have an auditory processing problem. She also has some traits that are on the autism spectrum. We have been to all kinds of doctors, neurologists, and hospitals through the years. But in her late teen years, she had some behavior that caused her to rage and had to be admitted into a behavioral health facility. The behavior was really hard on our family. We had never experienced anything like it and really had nowhere else to turn."
"At this facility, we meet a doctor who prescribed some new medications that really worked for her. The new medications were like a miracle from the Lord. Madison knows how much these medications have helped her. She knows how to take her medicine, and she makes sure she doesn't miss. I believe the medicines have made it possible for her to learn now. It has been a hard struggle," continues her mother.
Madison was directed to the beauty field throughout her life due to her mother owning several salons. Madison has made her second home in the salons and watched how her mother made people feel good. "She entered the nail technician classes and had awesome instructors who were blessings that produced hope for our family. I can't say enough good things about the instructors. They made Madison accountable like everyone else and when she deviated, she had to suffer the consequences. She had to follow the rules and learn the material. All Madison's life, she has thought that everybody else could achieve anything that they wanted to do, but she didn't have that confidence in herself. I think that she is gaining more confidence and growing through this experience" says her mother.
"If I thought a customer was not happy, it would upset me. I would cry and get upset at times. My instructors told me I had to develop a tough skin and be a professional. I had to look like a professional and act like one. They said I had to learn responsibility. They worked with the student help center and received some special instruction on how to teach me. They encouraged me when I felt like I couldn't do my work," states Madison.
"The instructors thought that Madison will be more comfortable in a work setting with friends. Her friends have been valuable teachers and support for her in the past. She may even be able to come into my salon to begin her work career. I have seen so many positive changes in her. She is thinking about decisions and making wiser ones. I am seeing a sense of humor develop, and she is talking about her plans for the future," ends her mother.
Madison wants to live independently, get a job, become the owner her own business someday, do some repairs on her car, and maybe go to school and be certified to do facials. Her ultimate dream is to be a massage therapist. And then, there is a certain young man who has become very important to her in the last couple of years.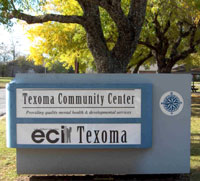 Texoma Community Center (formerly Mental Health Mental Retardation Services of Texoma) is a committed to helping individuals with intellectual and developmental delays since 1974 in Cooke, Fannin, and Grayson counties. Services include: Behavioral Support Services, Consumer Benefits, Continuity of Services, Intake /Eligibility/Diagnostic Services, Service Authorization, Service Coordination, DADS Waiver Programs (HCS and TXHML), DADS ICF-IDD Residential Program, Respite Services, Transition Planning, Adult Day Habilitation, Community Support Services, and Supported home Living Services.

For more information call: 903-957-4795.