Local News
Sherman Community Players exhibit opens Sept. 10
Sep 10, 2013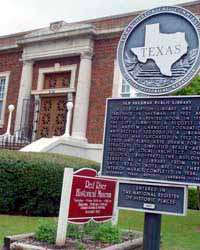 (SHERMAN, Texas) August 20, 2013 – The Sherman Museum will team up with the Sherman Community Players (SCP) to present an exhibition entitled, The Show Goes On, highlighting the Sherman Community Players' long history of producing live theater in Texoma. The exhibition begins September 10, 2013 and runs through October 12, 2013.

A grand opening event with ribbon cutting will be held Friday, September 13, from 6:30 p.m. to 8:00 p.m.

The Sherman Community Players organization debuted in February 1926, making it one of the pioneers of the Little Theater movement in Texas.

The Show Goes On exhibition will feature items from SCP's performance history, including costumes, stage props, photos, playbills and other items. The month-long exhibit will spotlight the
contributions over the years of the talented volunteers, staff, and facilities that brought the performances to life.

Dan Steelman, Executive Director of The Sherman Museum, noted "We are thrilled to celebrate the SCP and their sixty-five years of uninterrupted live theatrical excellence that the group has provided for Sherman and the Texoma region."

The Sherman Museum is open Tuesday through Saturday from 10:00 a.m. to 4:00 p.m. Admission is: $5.00 for adults; $3.00 for seniors (Ages 60+); $2.00 for students (ages 6-18); FREE for children 5 and under; and FREE for museum members. Admission
includes access to all other temporary and permanent exhibits, in addition to "The Show Goes On."

The Sherman Museum is located at 301 South Walnut in Sherman, Texas.

About The Sherman Museum

The Sherman Museum is a non-profit 501(c)(3) educational organization devoted to collecting, preserving and interpreting objects of historical significance to Grayson County and the Greater North Texas Region. The museum was previously known as The Red River Historical Museum prior to a name change in March 2011.

For more information about The Sherman Museum, visit us on the web at www.TheShermanMuseum.org.