Lifestyles
Camp Dragonfly - a place where grieving children can find hope
Sep 13, 2013
SHERMAN, Texas – Children grieve differently than adults. Some children have behavior problems, some struggle with school work, some become argumentative or fearful, some hesitate to be away from a parent, and many don't like to be alone. There is a great need for these kids to find support and guidance through their grief process. The Hope Center of Texoma, an outreach program of Home Hospice of Grayson, Cooke and Fannin Counties is inviting kids who have lost a loved one to attend Camp Dragonfly on October 4-6.
Camp Dragonfly is a weekend retreat, led by professional clinicians and trained staff, for children ages 8-12 who have suffered the death of a loved one. All activities at Camp Dragonfly are designed to help children heal. Kids will participate in art activities, games, nature hikes, discussions, and a camp fire with s'mores.
"It's amazing that kids can be serious and very focused while working on remembering exercises, and then be ready to play in an instant as activities shift," said Camp Director, Jolene Senek, LBSW, CT, GC-C. "Campers find ways to process feelings and treasure memories."
Children dealing with grief often feel isolated as well, feeling that no one understands. One of the goals of Camp Dragonfly is to give the campers a chance to be with others who can relate to their feelings of grief and sadness and to help them realize that they are not alone. The campers often report feeling better after attending camp.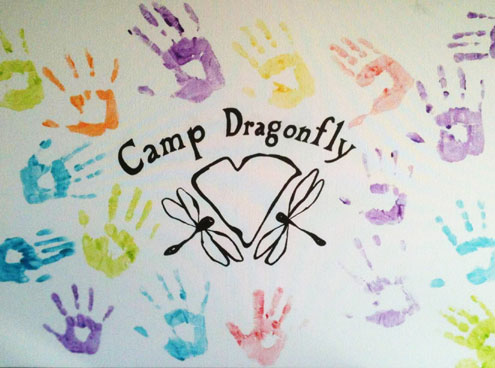 Before picking up their children on Sunday, parents will receive a packet of materials and a chance to talk with a counselor about how to support their child in the grief process.
"My child very much enjoyed camp," said a parent whose daughter attended an earlier session of camp. "She has always felt different from other children and camp seemed to make her feel like she belonged. She even wanted to go to summer camp when she thought it was a week-long Camp Dragonfly! The grief counselor I talked to was awesome! She was very honest and straight forward with me. She even asked me how I was handling everything."
The last session of Camp Dragonfly for 2013 is scheduled for October 4-6 at All Saints Camp on Lake Texoma, 418 Stanton Way in Pottsboro, Texas. If you know a child who might benefit from participating, contact Jolene Senek at 903-868-9315 or jolene.senek@homehospice.org. You can also download the application and learn more about this camp at www.homehospice.org/events/camp-dragonfly/. The application deadline for the October session is September 13.
Camp Dragonfly Application 2013
Home Hospice of Grayson, Cooke & Fannin Counties
505 W. Center St.
Sherman, Texas 75090
903-868-9315
Name of Child
Age
oMale oFemale
Address
Phone #
Email
Parent/Guardian:
Name and relationship of deceased to child:
Please describe the circumstances of the death and explain what your child knows about the death:
© Please include a picture of your child with application.
© Scholarships available. Contact Camp Director Jolene Senek @ 903-868-9315.
© Disclaimer: Completion of screening application (due by 9/13/13) does not guarantee acceptance to Camp Dragonfly. You will be notified by Camp Director of acceptance no later than September 18, 2013.