Lifestyles
Annual celebration scheduled
Sep 12, 2013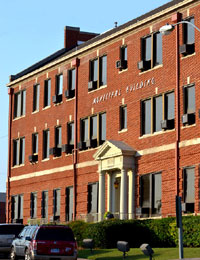 Texoma Community Center will hold its annual Destination Dignity Celebration on Thursday, September 12, 4:30 p.m.-7:00 p.m., Sherman Municipal Ballroom, 405 North Rusk. The Willie Kickit Band will provide music for the event. Hamburgers, hot dogs, and all the trimmings will be provided to all persons with mental, intellectual, and developmental delays. The event is free of charge and is sponsored by area businesses and individuals. Reservations are available by calling 903-957-4865.
For over twenty-five years the month of September has been designated as Destination Dignity initiated by the Texas Council of Community Centers, Inc., a statewide association of the 39 community centers that offer public services in every county in Texas. The campaign will focus on: 1. educating the general public about individuals with mental disabilities, 2. helping gain independence and dignity for the individuals served by reducing the stigma associated with mental disabilities, and 3. acquainting the public with the services available through local community centers.
Texoma Community Center is the community center that has provided services in Cooke, Fannin, and Grayson counties since 1974. The centerís mission is to provide services that improve quality of life and support self-determination for persons with mental, intellectual, and developmental disabilities.
Mental health centers are located in Sherman, Bonham, and Gainesville. Services offered are 24-Hour Emergency Services, Assertive Community Treatment (ACT) Team, Case Management, Cognitive Behavior Therapy, Community-based Assessments, Crisis Intervention, Medicaid Eligibility, Medication-Related Services, Respite Services, Skills Training, Small Groups, Supported Employment, Supported Housing, and Transportation.
Contact Grayson Mental Health Center at (903) 957-4701, Fannin Mental Health Center at 903-583-8583, Cooke Mental Health Center at 940-665-3962. A 24 Hour Toll-free Crisis Line: 1- 877-277-2226 is available for any one regardless of age who is experiencing a mental health crisis in Cooke, Fannin, and Grayson counties.
Early Childhood Intervention provides developmental services to infants and toddles zero to 36 months of age with developmental delays or who have a medical diagnosis likely to result in a developmental delay where there is a defined need for the child or family. A developmental delay can be defined as a significant variation in normal child development in one or more of the following areas: cognitive and/or communication development, physical development (vision, hearing, gross and fine motor skills and nutritional status), social and emotional development, and adaptive development and self-help skills. Services available are: screening and assessment; speech, occupational and/or physical therapy; developmental services; family support and training; and other services specific to child and family needs. Call 903-957-4810.
Child and Adolescent Mental Health provides mental health services to qualifying individuals under 18 years old. Services include Case Management, Community Support Services, Counseling, 24-Hour Crisis Intervention, Family Support Services, Medication Services, Screening, Assessment and Evaluation Services, and Skills Training. Call 903-957-4820.
Intellectual and Developmental Delay (IDD) Services provide Consumer Benefits, Continuity of Services, Eligibility/ Diagnostics, Service Authorization, Service Coordination, and Waiver Programs, Intermediate Care Facilities for person with mental retardation, In-Home and Family Support and Transition Planning. Call 903-957-4795. IDD Community Support Services helps individuals to live independently in their own communities and provides Community Support, Day Habilitation, Respite and Supported Home Living. Call 903-957-4831.