Local News
Gun Show in Greenville Sept. 7-8
Sep 3, 2013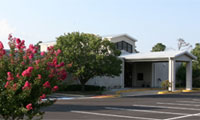 Greenville, Texas - The Fletcher Warren Civic Center will be the site for the Gun Show on September 7th and 8th, 2013. Vendors will be exhibiting everything from guns, knives and swords, including those that might have been used during the Civil War, WWI, WWII, etc.

Some of the booths will also include books, clothing, gun parts, reloading supplies and equipment, ammo, prints and photos relating to military history.

This event is hosted by the Audie Murphy/American Cotton Museum so plan a visit to the Museum as well while in town for the show.

The Gun Show hours for Saturday, September 7 will be from 9:00 a.m. - 5:00 p.m. and on Sunday, September 8 it will be from 10:00 a.m. - 4:00 p.m. Admission is $5 for adults and is free for children under 12.

The Fletcher Warren Civic Center is located at 5501 U.S. Hwy 69 South in Greenville, Texas. Come on out and have some fun buying, selling, trading or just browsing among the many items the vendors will display in their booths.

For additional information contact the Museum at (903) 450-4502. Funding for this event is provided in part by the City of Greenville Hotel/Motel Occupancy Tax Revenues.