Columnists
Crow's-Feet Chronicles: He went from runaway to stowaway
Sep 3, 2013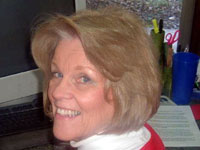 "Have any of your children ever run away from home?" a friend asked.

"Of course not!" I replied with what I hoped was a tone of righteous indignation. I'm great with the indignation, but for some reason I can't seem to perfect the righteousness.

Actually, one of our kids did run away one time. Our little "runaway" was only seven years old, and, to my shame, I didn't even miss him. It was my fault, of course. (Isn't it always?) It was a humid afternoon and I had just come home from the hospital with a new baby. I had just put her down for a nap, and in my usual postnatal nervousness (which always seemed to last until the next baby was born), I found myself periodically screaming that I would "kill the first kid who wakes up the baby!"

Now I am really quite fair and just with my screaming. I don't yell at my own kids any louder than I yell at the neighbors' kids, the meter reader, the exterminator, or anybody else who dares to be noisy at naptime. But evidently our seven-year-old was feeling very sensitive that day, for he took my screaming seriously and, not wanting to be either quiet or killed, he hopped on his bike and took off.

Around suppertime, the phone rang. "It's me, Mama. Can you come and get me?"

"Where are you?" I asked in disbelief. "I thought you were in your room with your brother."

"I'm in a store by a vacant lot that's across the road from a house and I wanna come home but I don't know how to get there."

I felt terrible. Since that day, I took to counting my kids regularly . . . before and after meals and at bedtime, and sometimes after bedtime, as I did one night some years later.

I awoke about 3 a.m. one hot summer night and realized that I had forgotten to make my usual body count. So I dragged myself from bedroom to bedroom counting kids. I came suddenly awake when I realized that I came up one short. The same kid---fifteen years old---was gone!

He'd run away. I just knew it. We'd just watched a TV special on runaway kids and he had remarked that it looked like fun. Fun! How could he do this to me? For the next hour I paced the floor, wringing my hands and dropping to my knees in prayer. Where was my baby? What had I done to drive him away?

At dawn I opened the front door to calm my panic with the cool morning breeze, and as I stepped out onto our patio, I fell over a body. Our son! Was he dead? No, he was snoring.

"Oh, sweetheart, you've come back!" I cried, throwing myself upon his startled hulk. "Thank God! But where have you been? Why did you leave? Are you unhappy here? Do you feel rejected? What can I do to re-establish our relationship? Raise your allowance? Restock the refrigerator? Cancel your dental appointment? Come inside and we'll communicate!"

"Good grief, Mama, leggo me, will you?" He woke up grumpily and reluctantly. "I haven't been anyplace. It got so hot in the house that I came out on the patio to sleep.

Years later, I didn't worry about the possible runaway so much as I did about the possible return.