Local News
Outside hot work requires permit in McKinney due to burn ban
Sep 6, 2013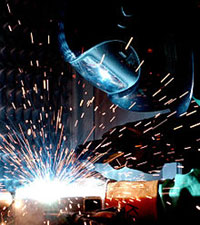 McKINNEY, TEXAS (Aug. 29, 2013) – Due to the burn ban issued by Collin County on Aug. 26, the City of McKinney Fire Department is instituting a burn ban and hot work permit program for those performing hot work or cutting and welding outdoors.

There will be no fee for these permits, which are intended to reinforce the importance of heightened awareness for safety during hot and dry conditions. Anyone performing this work without a permit will be subject to citations. Permits will be required until Collin County lifts the burn ban, at which time the program will be evaluated to determine if it will remain in place.

The burn ban issued along with the hot work permitting program pertains to all trench burning and recreational fires. Recreational fires banned include those used for warmth, pleasure, religious, ceremonial, cooking or other purposes. This includes the use of a fire pit or campfire. During the time the burn ban is in effect, the only exception will be a barbeque grill or pit used exclusively for cooking.

Permits for hot work will be issued at the Public Safety Building, located at 2200 Taylor Burk Dr., between 8 a.m. and 5 a.m. For more information, contact the McKinney Fire Marshal's Office at 972-547-2879 or visit www.mckinneyfire.org.

About McKinney

McKinney, Texas, is unique by nature. As one of the fastest-growing cities in the U.S., McKinney has a current population of more than 142,000. Incorporated in 1848, the city is located 30 miles north of Dallas and is the county seat of Collin County. McKinney offers rolling hills, lush trees, a historic downtown square and unique neighborhoods and developments. The city was ranked as the #5 Best Places to Live by Money Magazine in 2010. Visit the city's website at www.mckinneytexas.org.