Lifestyles
Dinosaurs live! Life-size animatronic dinosaurs exhibit returns two weeks early
Sep 18, 2013
September 14, 2013 through February 2, 2014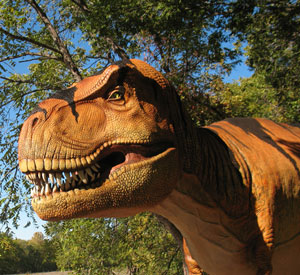 McKinney, Texas – An exhibit, millions of years in the making, returns two weeks earlier than usual to Heard Natural Science Museum & Wildlife Sanctuary. Heard visitors will walk back in time along a half-mile nature trail with nine life-size animatronic dinosaurs! Guests will be captivated as they learn interesting dinosaur facts, watch the dinosaurs move, and hear them roar. The dinosaur trail is also jogging-stroller friendly. During the holidays, this exhibit is an exciting and educational activity to experience as a family.

The infamous Tyrannosaurus Rex returns this year, as will the popular, spitting Dilophosaurus. New dinosaurs this year include Baryonyx, Citipati, Brachiosaurus, Protohadros, Megalosaurus, Allosaurus, and Elaphrosaurus. Kids will also enjoy interacting with baby Apatosaurus and Parasaurolophus dinosaurs and a photo-op T-Rex.

This exhibit has gone viral on Youtube and was even featured on Anderson Cooper 360 in January. Zach, the boy in the video, has returned to the Heard since the filming. Now, he loves the exhibit!

Trick-or-treating along the Dinosaurs Live! Trail – October 19, 6:00 p.m. – 10:00 p.m.

Collin County's premier family-friendly event, Halloween at the Heard, will feature trick-or-treating along the Dinosaurs Live! exhibit trail. Families will also enjoy a movie under the stars in the Heard's outdoor amphitheater. Kids 12 and under can participate in costume contests. Those who dare can take a trail detour through our "Haunted Forest" or new "Ghost Town" to encounter a ghost or creature of the night! ("Haunted Trail" not recommended for younger guests.) This event sells out each year, so guests are encouraged to buy tickets beginning October 1st at heardmuseum.org

About Heard Natural Science Museum & Wildlife Sanctuary

The Heard was founded in 1967 by Bessie Heard. Miss Heard was 80 years old when she saw the need to preserve a place where future generations could experience nature. Today, the Heard's mission of bringing nature and people together is carried out through education, particularly of young people, which emphasizes an appreciation of nature and its conservation. For more information, visit www.HeardMuseum.org.