Front Page
News from the Fannin County Historical Commission
Sep 2, 2013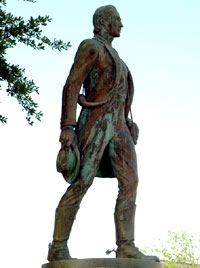 The Fannin County Historical Commission has adopted the project of restoring the James Butler Bonham statue on the southeast corner of the Courthouse grounds. The project will have the statue cleaned and resealed. The Commission has been raising funds for several months and has raised more than $11,000. Donations may be made in check form to "Fannin County Preservation Fund" and either mailed the Fannin County Treasurer, 101 E. Sam Rayburn Drive, Suite 302, Bonham, Texas 75418 or delivered to that office on the third floor of the courthouse.

FCHC will participate in the "Roll and Stroll" free museum day on September 19. From 10 to 5, a pictorial history of Lake Fannin will be on display in the east end of the historic railroad depot, located at 1 North Center Street, Bonham.

If you have an interest in the Civil War soldiers of Fannin County, a member of FCHC is researching all those who enlisted and/or were buried here in Fannin County.

You are invited to contact FCHC at 903-583-5947 and leave a message for more information; or consider joining us on the third Tuesday of each month.