Local News
Sam Rayburn Memorial Veterans Center to host Community Mental Health Summit Sept. 13
Sep 13, 2013
BONHAM – Meeting the mental health needs of veterans and their families is among the highest priorities for the Department of Veterans Affairs (VA). Summits scheduled across the country aim to build relationships between VA and community organizations to ensure veterans get the care they need.
While mental health resources continue to expand, veteran-centric and recovery-oriented care requires active collaboration with organizations in the community to help VA:
promote awareness and use of VA mental health care resources
help veterans gain access to community services
build a healthy network of community resources for Veterans and their families
To forge strong relationships with non-VA resources, the Sam Rayburn Memorial Veterans Center will host its mental health summit in Bonham on September 13. The summit will serve to begin a dialogue of strategies for seamless collaboration while identifying gaps and mental healthcare challenges through shared experiences, lessons learned and best practices.
VA North Texas Health Care System Director Jeff Milligan said, "The majority of returning service members and their families are resilient to the stresses of war and successfully readjust to life after deployment. But for veterans who need additional assistance, no matter what era of service, it is imperative that we come together as one community — including both public and private entities -- to provide the care and resources these veterans need and deserve."
The summit will bring VA together with local non-VA agencies and organizations to develop a plan to address mental healthcare needs of veterans and residents throughout the Bonham area.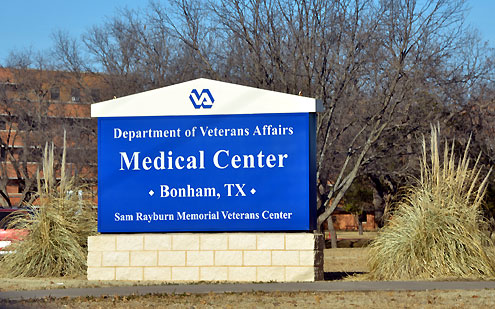 For more information about the Bonham summit or to receive an invitation to participate, contact Linda Ryan, LCSW at 903-583-6508 or lindaj.ryan@va.gov. Schedule for other VA summits is available at http://www.mentalhealth.va.gov/summits.asp.
VA North Texas Health Care System serves more than 113,000 patients each year, delivering more than 1.4 million outpatient visits to Veterans in 38 North Texas counties and two counties in southern Oklahoma.