Entertainment
Harmony House Concerts presents Mark Lemaire and Twilight
Sep 20, 2013
On Saturday night, September 21, 2013, 7:30-9:30 p.m, the mellow tones and harmonies of these two singer/songwriters from the San Francisco Bay area will fill the air and take you on a musical journey.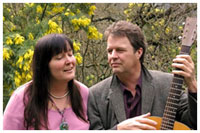 Mark has gained acclaim for his solo guitar compositions through his masterful touch. Then, in 2009, Cindy joined him as "Twilight", a wonderful descriptive name for the quality her voice adds to their harmonious duets together. See more about Mark and Cindy below or visit their website, www.marklemaire.com, to hear song clips and watch videos of their performances. This is their first Texas tour, so let's give these Californians a big welcome at Harmony House.

Make reservations by calling 903/583-2661, leaving your contact information and number of seats desired. The suggested donation is $15 per person with all proceeds going to the artists. To prepay, make your check to Mark Lemaire and mail to Faye Wedell; P.O. Box 812; Bonham, TX 75418. Refunds will be made to anyone who cancels by September 18. You may also pay for your reservation at the door, but please respect both the artists and the hosts by showing up should you make a reservation. If you have to cancel, please notify us before the show. Should you need directions on how to get to Harmony House, please indicate this when making reservations.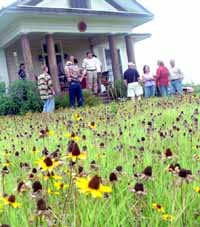 Harmony House is located in the Red River Valley about 10 miles north of Bonham, TX. You can check out our website, www.WildscapeAcres, for more information about our vintage home, our vision, and our Harmony House Concert link for the schedule of concerts and more. All concerts are indoors in an intimate, casual setting that allows the audience to interact with the artists. Our live concerts feature renowned singer/songwriters who have chosen to be independent artists. Many of them prefer the warmth of a house concert to a stage performance...Mark and Cindy are among these performing artists! Scott and Faye are the hosts who open their home to music lovers and music makers, believing that music is the universal language and that it enriches the lives of everyone. Bottomless cups of coffee, tea, and fantastic punches plus snacks are provided by the hosts for the guests' enjoyment during the performance and during the 30-minute intermission between the two 45-minute sets provided by Mark and Cindy. There is a basket on the breakfast room table for any optional $1 cash donations to help defray expenses.

Before the concert, an optional "Build Your Own" Taco Salad Potluck dinner will start at 6:45 pm. If planning to attend, please notify Faye and she can suggest an ingredient that you could bring for the "spread". It's easy when you can just bring an ingredient or a simple dish to share. Of course, desserts are also enjoyed....if you are a baker or pie maker!

Following the concert, a Song Circle will be held in the dining room for all those who choose to stay and participate. Just bring your instrument, your voice, or ears and enthusiasm to add to the joy of sharing with others in song....it can be original music of your own or some "sing-along" old favorite!

More about Mark Lemaire and Twilight:

While Mark's solo guitar compositions stand as complete statements, the message in his vocals adds another dimension. Mark performs with his partner, vocalist Cindy van Empel, as Mark Lemaire and Twilight. The songs Mark and Cindy sing are personal, but everyone can identify with them. They sing of the vicissitudes of love and the strange surprise of middle age creeping up on us. Audience member David Mears says: "I can listen to your songs and presentation for long periods of time. Why? The song themes resonate with my life experiences." This is music for adults, yet with clarity and incisiveness appealing to the part of us that is ageless.

"I've seen a lot of acts, but the harmonies of these two are so aligned and balanced, I felt as though I got an audio 'tune up' inside me after listening to their songs."
- Kiki Wow, Music Host & Promoter for Carmel Valley

"Complex, sophisticated song arrangements. His guitar playing his so good, it might distract you from his compelling, engaging melodies and sharp songwriting in the vein of Simon & Garfunkel. But only for a second."
-Richard Rice, Director of the San Francisco Free Folk Festival

Mark has been performing on guitar since he was twelve. Originally from New England, by high school he was writing songs and playing the coffeehouses in Boston and Cambridge. At 23, his musical world changed when he landed a job as a recording engineer at the legendary Euphoria Sound. As a staff engineer, Mark learned his studio chops with producer Jimmy Miller, who produced The Rolling Stones, Blind Faith, Traffic, and the Spencer Davis Group. He also did sessions with the wild and infamous Johnny Thunders of the New York Dolls, as well as 80's college radio darlings Scruffy the Cat.

In 2004, Mark revitalized his life yet again. He completed "Practice Makes Perfect" in 2008. Mark began performing with Cindy van Empel as Mark Lemaire and Twilight in 2009. In autumn 2012, they released their first CD as a duo- "Home Isn't Home".

Cindy has been singing since her youth. In high school in Southern California, she sang in a band that covered REO Speedwagon and Led Zeppelin. And she also toured Europe with the group Madrigals, performing music from the Renaissance and the Middle Ages.

Mark met Cindy in early 2008. It was immediately clear how perfectly their voices blended. Then Mark asked Cindy if she would please learn a few of his songs. And so she did. They have been performing together as Mark Lemaire and Twilight ever since. They tour New England every summer, and California appearances have included shows in Carmel Valley, Berkeley, Los Angeles, San Francisco, and many places in between. On their European vacation in the fall of 2011, they busked on the streets of Italy and Croatia.