School News
School supplies for Fannin County children
Sep 9, 2013
Many children went back to school with supplies, thanks to a local non-profit agency. The Fannin County Children's Center gave school supplies to 730 students from all over the county.
This year was the seventeenth year in a row that the Children's Center has provided free school supplies to needy families. It was also a record setting year. Center staff reports that the previous record was 726 children in 2011.
"This effort would not be possible without so many generous donors, as well as our hard working volunteers and staff," said Sandy Barber, Executive Director of the Children's Center. Many local individuals, families, churches, businesses and other organizations contributed pencils, crayons, markers, paper, notebooks, cash and other items to the project. Families had to show proof of financial need such as a Medicaid card, CHIPS or Food Stamps.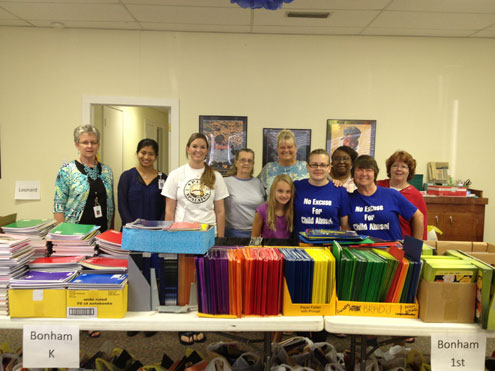 Staff and volunteers paused for a photo before the start of the 17th annual school supply drive at the Children's Center which served 730 students this year.
For more information about the Children's Center, go to www.fanninccc.org or call (903) 583-4339.