Front Page
Fannin County Commissioners Court approves budget to lower tax rate, make county debt free
Aug 27, 2013
Bonham -- In a regular meeting of commissioners court that local taxpayers are likely to consider the most promising county meeting in years, Fannin County Commissioners Court approved a 2013/2014 budget that will pay off a loan five years early to make the county debt free, while also lowering the tax rate for the third year in a row.
"Today is a great day and I think it is going to be a great year for Fannin County," Fannin County Judge Spanky Carter remarked when Fannin County Commissioners Court approved a tax rate of .5950.
This is the lowest county tax rate since 2006 and this will be the third consecutive year commissioners court has managed to lower the tax rate.
"It's moving in the right direction," Judge Carter said in reference to the declining tax rate.
Despite the lower tax rate, there has been no loss of services to county residents, county employees have received a minimum of a 3% raise each year and the county will unveil its new Fannin County AgriLife Extension Office, the Derrell Hall Education Center, this fall. Members of commissioners court seemed particularly pleased that the 2013/2014 budget will increase the starting pay for Fannin County Sheriff's Deputies from $23,755 to $30,697.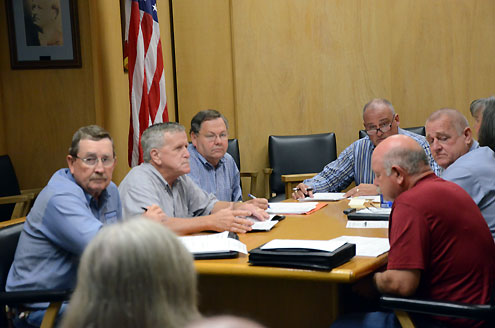 Fannin County Commissioners Court
The 2013/2014 budget also includes an early payoff of the note on the former county jail on County Road 4200. Originally scheduled to be paid off in 2018, a final payment of $1,095,000 is tentatively planned to be made in November 2013.
"Fannin County will be totally debt free," stated Judge Carter. "Not a lot of counties can say that. I'm proud of our commissioners court and the approach they've made."
In other business, Fannin County Commissioners Court gratefully accepted volumes of historical data from the family of John E. Avery.
Mr. Avery served as commissioner of Pct. 3 for 20 years, was a member of the Texas Historical Commission for 20 years, the North Texas Tuberculosis Association, Honey Grove Chamber of Commerce, Friends of Sam Rayburn Library, Friends of Bertha Voyer Library and American Heart Association of Fannin County. The presentation was made by Avery's daughter, Mary Alice Glover, who felt as though her father would have wanted the historical photographs and documents to be shared with Fannin County residents.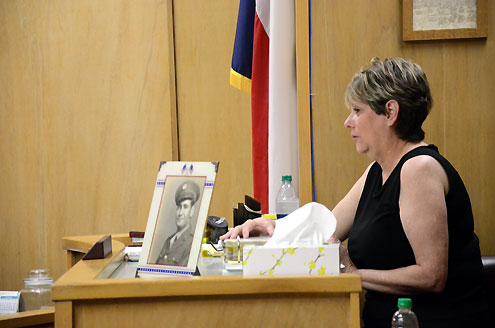 Mary Alice Glover