Lifestyles
Bark & Paws Saturday, Sept. 7 in Denison
Sep 7, 2013
Downtown Denison will be calling out the dogs on Saturday, September 7. Pet lovers are encouraged to bring their dogs for fun and games from 9:00 a.m. until 3:00 p.m. Heritage Park at Main and Burnett will be the center of activities. All dogs are required to register at this location, and the first 100 will receive a special gift.
Perhaps the funniest event will be the Wienie Dog Races which kick off the day at 9 a.m.. Other competitions returning this year are the retriever contest (bring your own dog toy) and the obstacle course. The pet parade is certainly the most popular and colorful event. Those attending can experience an attempt at the Guiness Book of World Records.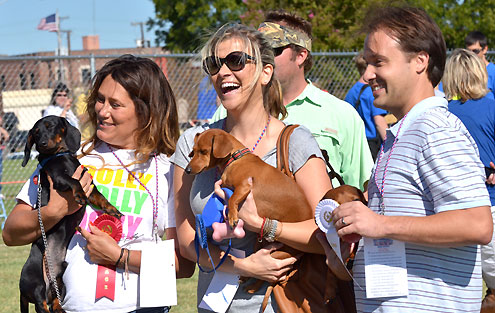 Last year's Dachshund race ribbon winners: (L-R) Second place, Wienie Man McCullough and Michelle; first place, Wagoner Fannin and Aimee; third place, Henry Farris and Dustin. Downtown Denison will be calling out the dogs on Saturday, September 7. photo by Allen Rich
The parade will begin at Heritage Park at 10:00 a.m. Dogs of all sizes are welcome to participate and dress up like their favorite movie stars. Owners may even enter to win if they dress like their dog (can be movie sidekicks and must be according to the theme) or look like their pets (based on facial features and hair). The best dressed dog will win an award based on their red carpet or movie star outfit.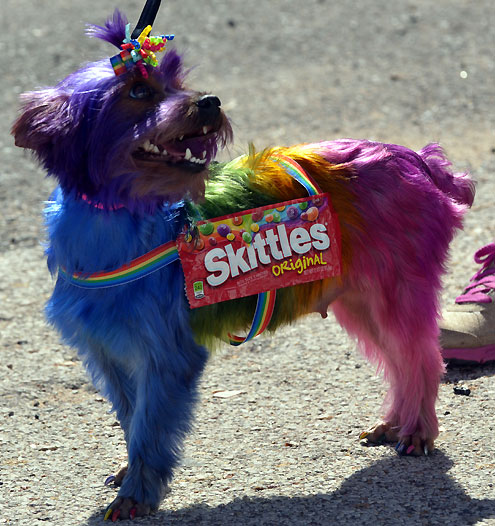 photo by Allen Rich
Obedient dogs will get to follow their owner's command while others will show off their trick or talent. Other contests will be held for the biggest, littlest, ugliest, oldest, and one that traveled farthest.
This year, all of the events will be held at Heritage Park. Vendors will set up on Burnett next to the park. Those already signed up include chair massage, pet massage, veterinarian, groomers, trainers, pet adoption, and more.
Another special highlight of the day will be a live auction presented by Salyer Auction at 10:30 a.m. There will be many prizes including dog houses, dog training, gifts, and other dog related merchandise. The proceeds will go towards future events and making Denison dog friendly. At 10:45 a.m., a Blessing of the Pets will occur.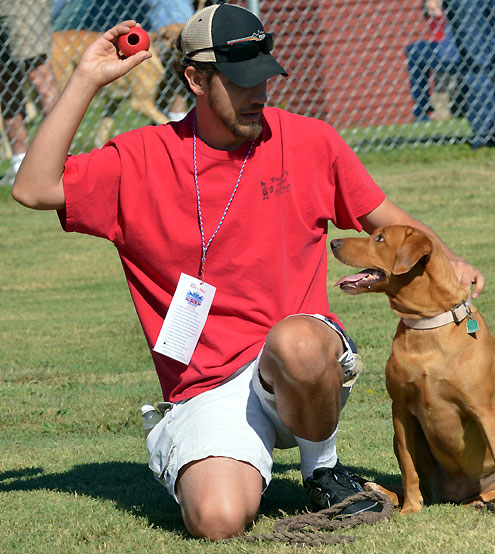 Rose Oetker and Dustin compete in 2012. photo by Allen Rich
Event t-shirts and dog bandanas will be on sale throughout the day for $15 and $5 respectively. Dog registration will begin at 8 a.m. Registration is free, but those entering contests will be charged $1 per event and will be given a chance on door prizes for each $1 spent. Anyone can purchase $1 tickets for door prizes, and the drawings will occur throughout the day.
Every dog must abide by leash laws and have proof of current rabies vaccinations.
The event is organized by the City of Denison's Main Street Department and led by volunteers who love their dogs. The day of fun is made possible by Big Dog Little Dog, KTEN Television, a memorial for Max and Harley Waterloo, KXII Television, Salyer Auction, Film in Texas and Herald Democrat.
For specific event times, contest rules, more information or volunteer forms, visit www.DowntownDenison.com and see current events or call 903-464-4452.