Entertainment
12th Annual Ethiopian Day and 2nd Annual Taste of Ethiopia
Aug 31, 2013
Dallas, Texas -- The Mutual Assistance Association For The Ethiopian Community (MAAEC, Inc.) in Dallas-Fort Worth is pleased to announce the upcoming 12th Anniversary of Ethiopian Day and our Second Annual Taste of Ethiopia. This annual celebration will be held at Plano Centre during the Labor Day weekend on Saturday, August 31, and Sunday, September 1, 2013 from 11:00 a.m. to 12:00 midnight.
"The Ethiopian community is a growing community with an estimated 35,000 residents in the Dallas-Fortworh and surrounding towns. MAAEC, Inc. is proud to present our second Taste of Ethiopia to DFW to enhance the relationship between the Ethiopian community and the diverse global groups in the area by presenting various cultural shows and native food" said Mac Mekonnen, the Executive Director of MAAEC, Inc.
Come and experience the sights, sounds, and tastes of Ethiopia along with the famous Ethiopian coffee ceremony. Various local Ethiopian restaurants and caterers will be providing free samples of food and local beverages. Several historical and cultural presentations including cultural dance performances, fashion show, and short films will be part of the program.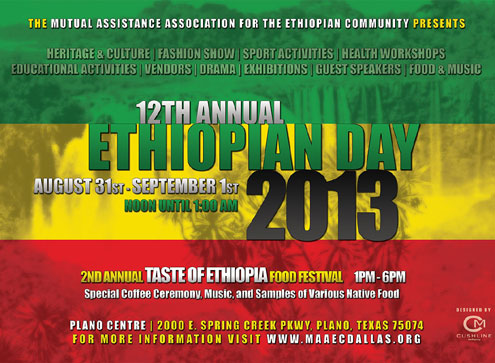 MAAEC is a nonprofit 501 C Tax Exempt organization. Its website is www.maaecDallas.org