Front Page
Hot air balloons color Texas sky at 34th Annual Plano Balloon Festival
Sep 21, 2013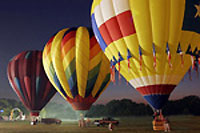 Plano, Texas - If man were made to fly, then climbing in the basket of a hot air balloon might just be the closest sensation to that experience. The spectacular color and shape of the giant envelope gently lifting the balloon is mesmerizing. Each September, Plano hosts the magic and majesty of ballooning during the largest balloon festival in Texas.
Forty five hot-air balloons will take to the sky Sept. 20-22 for the 2013 Plano Balloon Festival at Oak Point Park, 2801 E. Spring Creek Parkway in Plano. Sponsored by InTouch Credit Union, the three-day festival attracts more than 95,000 visitors annually to witness the colorful splendor across the Plano sky.
This year's featured special shapes include Cosmos, Joelly the Little Bee, Betty Jean the Butterfly, the Old Lady and her Shoe, Pigasus the flying Pig, and High Jack.
The 34th Annual Plano Balloon Festival features five balloon launches at 6 p.m. Friday (Sept. 20), and 7 a.m. and 6 p.m. Saturday (Sept. 21) and Sunday (Sept. 22). Visitors can experience breathtaking views of the illuminated balloons against the dark sky during morning and evening balloon glows.
Other activities include daily skydiving shows, live entertainment on the FOX 4 Community Stage and KLUV Main Stage, a Saturday night (Sept. 21) fireworks show, custom classic car show (Saturday, Sept. 21), arts and crafts vendors, and more. The family-friendly Kids Fun Zone features a rock climbing wall, face painting, inflatable rides and a free Kids Korner offering make-and-take art activities.
"For more than 30 years, the Plano Balloon Festival has been the signature event that highlights the many wonderful assets residents and visitors to our city experience," said Mark Thompson, director of the Plano Convention & Visitors Bureau. "This event is one that visitors mark on their calendar to attend year after year."
Festivalgoers can experience a breathtaking view of Plano in a hot-air balloon for $275 per person, available on a first-come, first-served basis. Balloon rides must be purchased by Sept. 13 (
www.PlanoBalloonFest.org
) and are flown weather permitting.
For those who prefer to keep their feet on the ground, Sunday morning (Sept. 22) features the festival's half marathon, 5K and 1K fun run/walk. Registered runners receive a T-shirt, breakfast, sponsors goody bag, up to two festival tickets and VIP parking. Online registration is open through Sept. 16 (
www.PlanoBalloonFest.org
), with race week registration closing on Sept. 21.
The balloon festival celebration opens at 4 p.m. Friday (Sept. 20) and 6 a.m. Saturday (Sept. 21) and Sunday (Sept. 22), and will close at 7 p.m. Sunday. Tickets are $5 per person. Seniors 65 years and older receive a $1 discount, and children under 36 inches are admitted free.
Parking is available at Collin College Spring Creek Campus (2800 E. Spring Creek Parkway), Oak Point Recreation Center (Jupiter Road and Spring Creek Parkway) and First United Methodist Church (Parker Road and Spring Creek Parkway) for $10 per car. Offsite parking is available at the Plano Centre (2000 E. Spring Creek Parkway) and Collin Creek Church (1905 E. Parker Road) for $5 per car.