Columnists
Crow's-Feet Chronicles: There's a lot to blot
Sep 1, 2013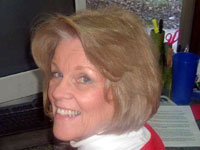 The Rorschach ink blot test is named after its creator, Swiss psychologist Hermann Rorschach. It's a method of psychological evaluation and is used to try to examine the personality characteristics and emotional functioning of patients. Failing the test is not all bad. After all, if you're normal, people will accept you. If you're deranged, they'll elect you to Congress.

There are ten official inkblots. The psychologist shows the inkblots in a particular order and asks the patient, for each card, "What might this be?" Psychology cannot provide cookie cutter results like actual medicine does, but a commuter who looks at the inkblots and sees dead opossums, rusty barn hinges, flapping clotheslines, and farmers urinating behind John Deere tractors must surely be in touch with his rural side.

During the last century, professionals used it on everyone from neurotic housewives to Nazi war criminals, in the belief that it allowed them to fathom the hidden undercurrents that drive people's actions and emotions, and assess their mental wellbeing. I wonder if Dr. Hermann's heirs are cashing in on the creepy inkblot Halloween masks. The hand-made masks are akin to the mask seen in the movie "Watchmen" with the endlessly changing ink blots, and they come in five different ink blot styles.

The inkblot test is rather like staring at clouds: when you see a meaningless shape, your brain tries to make sense of it by organizing it into a picture. Such pictures, proponents argue, can speak volumes about your thought patterns. I wish I could analyze myself. The yellow blob on the kitchen floor that resulted from an exploded jar of French's mustard looked a lot like a pair of emus facing one another, wearing feather boas.

I imagine that these days a lot of people will see imagery from many of the games they have played, movies they have seen, local TV shows, popular songs, etc. How could they possibly derive universals, when so many variations exist between subcultures, etc., in each region of planet earth? For example, a Yankee uniform has a different meaning in NYC than it does in Boston.

Every Rorschach image has at least one obvious representation of sexual anatomy. Too many in that category might denote schizophrenia. Deliver me from seeing a crotch in every splotch! Although I have no inkblots to study, I find myself seeing images in EVERYTHING. I bought a wrought iron scroll wall design but I wasn't sure which the top was. It didn't seem to matter until I put it on the wall and backed away to view it. Immediately, I saw a uterus and fallopian tubes. With nimble fingers and quick wrist action, I reversed it.

I'm no longer insane. It's Cinderella's carriage.