Sports
Bill Halter Memorial Tractor Pull in Blue Ridge
Aug 24, 2013
The Lone Star Garden Tractor Pulling Association teams will be back in action this weekend. The pulling teams will converge on Blue Ridge, Texas, this Saturday night, August 24, for the Bill Halter Memorial Pull.
The competition is scheduled for a 6:00 p.m. start, with opening ceremonies featuring the National Anthem presentation by Bailey Melvin.
This event is the sixth pull on the LSGTPA 2013 tour, and is an annual event dedicated to the memory of Billy Halter, a long time supporter of the LSGTPA who passed away in 2006.
The pulling track is located at the Blue Ridge Sports Complex, just four blocks west of downtown, at the south end of Pruett Street.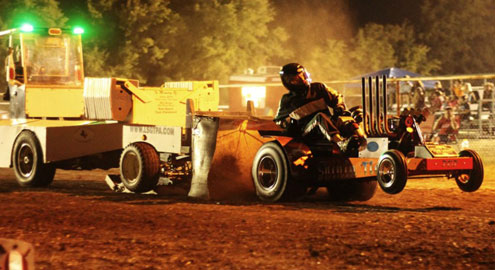 Jerry Toland and his 'Shinin Time' tractor, will be among the competitors at the Bill Halter Memorial Pull in Blue Ridge. Ashley Jesko photo
Visit the www.LSGTPA.com website for additional details and directions.