Local News
'The Great Conversation' topic of Fannin Partners in Education meeting Aug. 28
Aug 28, 2013
"The Great Conversation" will be the topic of the next F-PIE presentation to be held on Wednesday, August 28 at 2:00 p.m. at the TEAM Center, 806 West 16th Street in Bonham. JoCarolyn Chambers, Social Worker from Home Hospice of Grayson, Cooke and Fannin counties will be the featured speaker. Learn about communicating your wishes for end-of-life care and bring peace of mind to you and those you love. This presentation will provide tools to determine what matters to you, what to talk about, and how to start the conversation.
This event is free and open to the public. Complimentary pie from Cappy's Cafe will be served.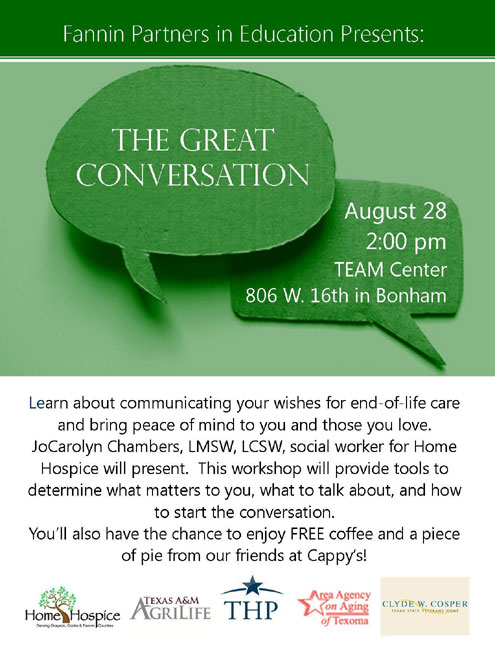 The presentation is brought to you by F-PIE (Fannin Partners in Education), which is a cooperative effort of local agencies including Home Hospice of Grayson, Cooke and Fannin Counties, Area Agency on Aging (TCOG), Clyde W. Cosper (Texas State Veterans Home), AgriLife Extension office (Texas A&M System) and Texoma Housing Partners (TCOG). On the last Wednesday of each month F-PIE hosts educational programs that enrich the mind and entertaining programs that tickle the funnybone. These programs are held at the TEAM Center with free pie and coffee served at each event.
Make plans now to attend this informative presentation and get the information you need to set your mind and heart at ease.