Front Page
Festival of Flight returns to Bonham Nov. 2
Nov 2, 2013
Bonham -- Jones Field will be back in the spotlight Saturday, November 2 when Festival of Flight returns to Bonham.
Spearheaded by Stephen Murden, the inaugural event in 2012 was a tremendous success featuring two parachute teams -- Blue Skies Parachute Team and Sky Dive Dallas -- as well as World War II warbirds, and Fannin County native Kate Kyer's stunning acrobatic maneuvers in her powerful Pitts biplane.
A pair of T-6s, a T-28 Trojan and an AT-17 "Bamboo Bomber" rumbled around the pattern at Jones Field, entertaining a large crowd at the municipal airport and even stopping traffic on U.S. 82.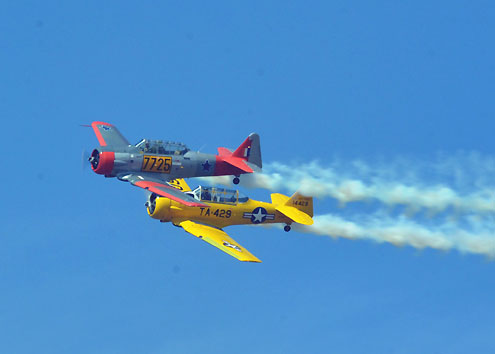 Jones Field was activated in 1941 by U.S. Army Air Force with PT-19s assigned as the primary trainer, along with several PT-17s. Both aircraft played starring roles in the Festival of Flight.
Pilot Julia Wood pauses for a photo with Leonard Gerner before she gave Gerner a spin around the airspace over Jones Field in a PT-19, the aircraft that Gerner flew as an instructor pilot at the former military airport. On November 3, Bonham celebrated its ties to the pilots who ruled the skies over Europe and the Pacific during the Second World War by hosting Festival of Flight.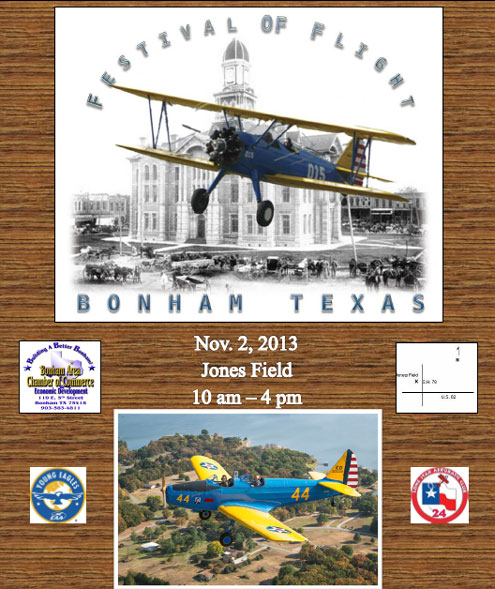 Contact 903-583-4811 about sponsorship opportunities or visit
www.bonhamchamber.com
to download a sponsorship brochure!
FB link (which includes our slideshow from last year's event) is: