Entertainment
McKinney Repertory Theatre presents its annual melodrama: The Curse of an Aching Heart (or Trapped in the Spiderís Web)
Aug 17, 2013
McKinney, Texas, August 8, 2013 -- McKinney Repertory Theatre presents its annual Melodrama, Herbert Swayneís The Curse of the an Aching Heart (Or Trapped in the Spiderís Web). With cues from Bob Wiseman on the Mighty Wurlitzer Pipe organ, the audience is encouraged to cheer for the heroine, swoon at the tender moments, and boo, hiss and throw popcorn at the moustache-twirling villain. Popcorn is free in exchange for a canned food donation; donations benefit the North Texas Food Bank. All patrons who wear a moustache will also get a free bag of popcorn for throwing.
Directed by Lisa Miller, The Curse of an Aching Heart is centered on the story of Melody Lane (Kasey Bush), who falls in to the hands of the moustache-twirling villain, Windermere Hightower (Andrew Jay Williams). She flees to the None Such Ranch, where she falls in love with the stalwart Lucius Goodenough (Joe Shimek).
Of course, Windermere appears at the ranch and tries to force his attentions on Melody, while also implicating Lucius in a theft. Disguises, dirty deeds, and downright silliness abound in The Curse of an Aching Heart.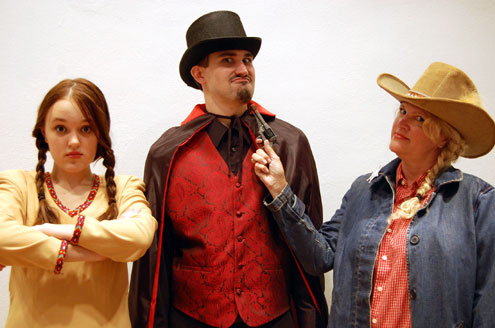 Red Wing (Rachel Carnegie), Windermere Hightower (Andrew Jay Williams) and Battle Ax Annie(Rosanna Leahy) - photo by Lisa Miller
Performances are August 16-17 and August 23-25. All performances will take place in the Courtroom Theater at the McKinney Performing Arts Center. The Sunday, August 25 show is at 2:00; all other shows are at 7:30 p.m. McKinney Performing Arts Center is located at 111 N. Tennessee Street on the square in McKinney. Tickets are $17 for adults, $14 for Seniors/Students and $12 for Children under 12. Visit www.McKinneyRep.org for more information or to purchase tickets.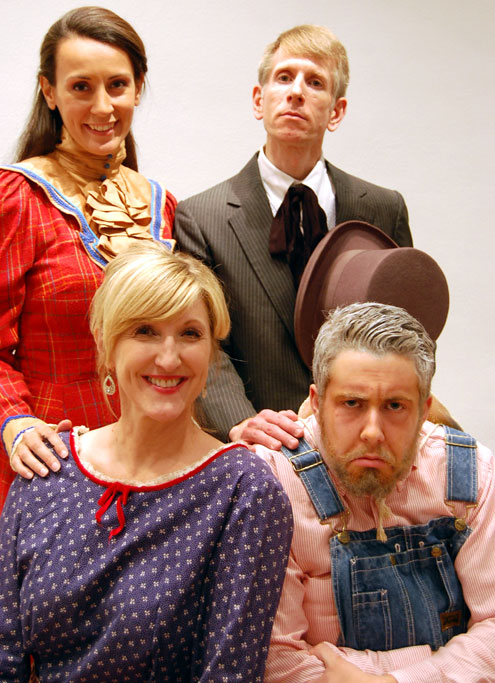 Aurelia Abernathy (Melissa Vestal), Aloysius Abernathy (Dale Gutt), Sarah Abernathy (Stephanie Kelly), Hiram Abernathy(Robby Gemaehlich) - photo by Lisa Miller
The McKinney Repertory Theatre is a member of the McKinney Chamber of Commerce and the American Association of Community Theatre. Its productions are funded in part by the City of McKinney through the City of McKinney Arts Commission and the Texas Commission on the Arts.