Front Page
Perseid meteor shower to peak Aug. 11-13
Aug 11, 2013
Bonham -- Local astronomers will have good reason to keep an eye on the late-night and early-morning sky in the days ahead as the annual Perseid meteor shower peaks August 11-13.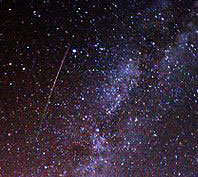 Originating in the Perseid cloud of debri ejected by the Swift-Tuttle Comet, this prolific meteor shower has been observed by ancient civilizations for almost two thousand years as the Earth passes through the comet's trail of dust. Amazingly enough, most Perseid meteors are about the size of a grain of sand, however their impressive show occurs because of their blazing speed -- more than 130,000 miles per second. The Perseid meteor shower is the most popular meteor shower of the year.

The tiny, streaking fireballs are more visible in a clear, dark sky and, in the DFW area, moonset will be 10:53 p.m. on Sunday, August 11 and 11:32 p.m. Monday, August 12. Most stargazers suggest facing northeast and looking halfway up into the early-morning sky Monday and Tuesday.

Occurrence will be most common in the pre-dawn hours and there is only a very slight chance of clouds either night, so North Texans are awaiting the Perseid meteor shower with anticipation.

The next big meteor shower will be the Leonid meteor shower in November.