Columnists
Crow's-Feet Chronicles: Technology becomes touchy-feely
Aug 15, 2013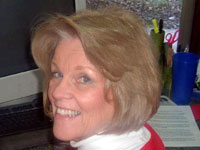 My mama always said that no family should have more children than car windows. She had three of us, and we three had to share two windows in the back seat of the car on all family vacations. Mama drew imaginary lines between us, and the slightest touching of thigh, ankle, foot, or finger flesh was as deadly as any episode of "Under the Dome."

We used to envy Mama and Daddy laughing and talking with nothing to do but ride and read the road map. We were actually relieved when Daddy stopped and picked up a hitchhiker. The guy rode with us for 20 miles before finally writing us a check to let him out of the car.

Instead of the usual games to pass the time in a car, like "Count the Cows" or "Out-of-State License Bingo," we played a game called "Get Mama." We argued! We argued through scenic highways, majestic mountains, and amber waves of grain. We argued for 75 miles on whether or not you could run a car 100 miles in reverse without stalling. We debated how workers in the U.S. Treasury Department could defraud the detectors by putting $100 bills in their mouths and not smiling until they got past security. We argued about whether or not you could use a yo-yo on the moon and whether or not hair would grow over a vaccination. We discussed at length if a nun would be called "Father" if she were allowed to become a priest. For Mama, the only bright spot was when she slumped against the door and it wasn't closed all the way---she nearly fell out.

It's different with grandchildren. Lanny and I asked to take the five grand kids with us on our recent family trip to Beavers Bend State Park in Broken Bow, Oklahoma, while their parents followed in their cars a few hours later. It was close enough for us to enjoy the two-hour drive and far enough for the grand kids to consider it a "real trip."

I was prepared for a certain amount of scuffling, shoving, car sickness, and boredom. Didn't happen. What I was not prepared for were eleven stops to check out the roadside restrooms and, on one stretch of highway, a dense clump of bushes for a little kid who couldn't wait.

The real reason there was no scuffling, shoving, or boredom was that the grand kids were self-entertained. There were three iPads, one iPhone, and one DVD player among the five kiddos. Except for bathroom stops, complete with dipped cones, ice cream sandwiches, and guaranteed-to-break souvenirs, Lanny and I were in our own little world in the front seat of our SUV.

During the trip, I managed to glance at the iPads and iPhone to watch the grand kids playing games that improve motor skills and mental dexterity. Impressive. The real shocker was when I saw my granddaughter milking a cow on her iPad. That's right---milking a cow! I couldn't believe my eyes. I sat there with my jaw hanging open, and pretty soon I felt a little mastitis of my own. As my granddaughter "pulled" the mammary gland down, the milk squirted into the silver pail. I kid you not. Before I realized that the operation was mesmerizing me, I blurted, "Hey, don't forget THAT one!"

I fully expected them to Wii Wii Wii all the way home.