Entertainment
Savannah's Meadow Lavender and Herb Farm to host 'An Evening of Lavender and Lights' Sept. 7
Sep 7, 2013
Big dreams in a small town
Late one night in 2006 Celeste residents Mike and Gwen Snyder talked about their dreams for their future. Mike always dreamed of living in a treehouse. Gwen wanted to be a lavender farmer. Together they have created "Savannah's Meadow Lavender and Herb Farm." Their 18-acre farm is located between Farmersville and Greenville and is home to "The Majestic Oak Treehouse." It is a bed and breakfast getaway built in a live tree, complete with bathroom and shower, fully stocked kitchen and even a hot tub. The Snyder's refer to it as "glamping"… glamorous camping. And it is.
The farm is also a place for parties and events. The Snyders are hosting "An Evening of Lavender and Lights," on Saturday, Sept. 7, 2013. Visitors will also be offered the opportunity to tour the Majestic Treehouse from 5-7pm.
The party starts at 5:00 p.m. and at 5:30 p.m. DFW's favorite magician, James Munton, (www.jamesmunton.com) joins the festivities with his "strolling magic." Munton has entertained at the White House on several occasions. Later in the evening, Singer and musician Tyla Taylor (www.tylataylor.com) will perform. Taylor appears regularly at Rick's Chop House in McKinney.
Participants will enjoy oven roasted pizza and appetizers. There will also be a fire pit with marshmallows for roasting and sparklers to enjoy after dinner. Wine tasting will be available for purchase, and guests are also welcome to bring their own wine or beer.
A registered massage therapist will be offering neck and back massages and a photographer will be available to commemorate the evening for guests.
This is just one of many events planned for Savannah's Meadow. According to Gwen, "It was definitely a big dream, but it's been wonderful watching it become a reality, and share it with other people."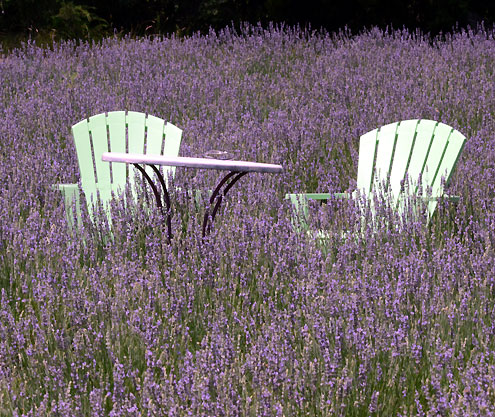 photo by Allen Rich
For more information about the farm or to register for "An Evening of Lavender and Lights," go to www.savannahsmeadow.com or check out their Facebook page.