Front Page
TravelQuest: Silver Thread Highway
Jun 15, 2014
TravelQuest: Colorado, part 2
In the 30 years since its final stretch of road was paved, Colorado's Silver Thread Highway has become a favorite of travelers in search of stunning scenery, wildlife photography or even a secluded trout stream.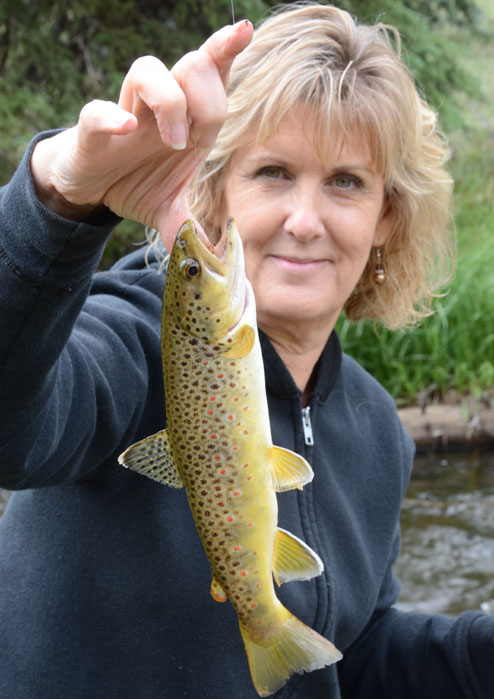 After a day of fishing, Sherman, Texas resident Cindy Skelton shows off a nice brown trout.
A three-hour ride listed at 117 miles, this historic drive began as a footpath for Ute Indians. Next came miners and mules in search of rich ore. Then the railroad reached the heart of Hilsdale County. By the early 1900s, automobiles were making their way along the more accessible portions of this byway.
The Silver Thread Highway stretches from Blue Mesa Reservoir near Gunnison, winds through the high country north of Lake City, weaves up and over Slumgullion Pass and Spring Creek pass and then hugs the Rio Grand after the river emerges from the peaks near Pole Mountain.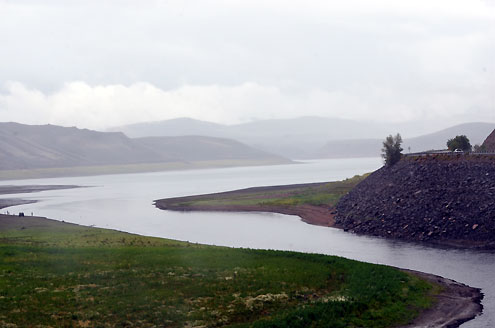 Blue Mesa Reservoir
Until 1968, this was a gravel road and the first paving projects began along Highway 149.
Now enjoying a national reputation, the Silver Thread Highway, as in its earliest days as a footpath, continues to bring resources and economic development to southwest Colorado.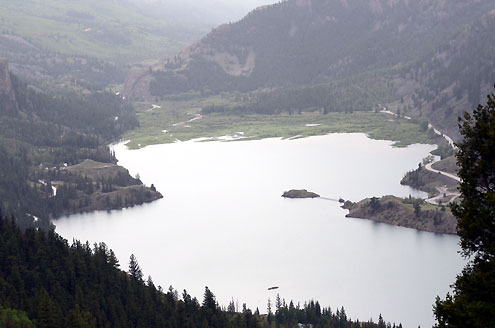 Lake San Cristobal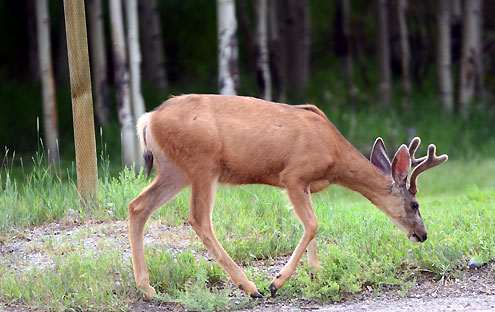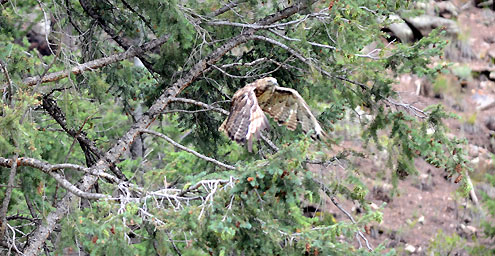 Primary Points of Interest
•Blue Mesa Reservoir: Located in Curecanti National Recreation Area, this 20-mile long reservoir, the largest in the state, is a popular recreation area for anglers, boaters, hikers, campers, and swimmers.
•The Gate: This stunning rock formation, which resembles a gate in a fence of mountains, was carved by the Lake Fork of the Gunnison and towers over the river and highway. In this area, there is easy access to the Lake Fork and a public campground.
•High Bridge: The railroad bed and trestle of a bridge owned by the Denver and Rio Grande Railroad that once spanned the canyon still remain at this site. When the line was abandoned, timbers from the bridge were removed and used to build a school in Gunnison. The road to this area is steep and may not be accessible to all cars.
•Alferd Packer Massacre Site: In the winter of 1874, Alferd Packer led five underprepared prospectors into the wilderness. Two months later, Packer emerged alone, looking suspiciously well-fed. He later confessed to killing one crazed man in self-defense and eating the remains of his five companions in order to survive. He was eventually convicted and imprisoned until 1901. His victims are memorialized at this site.
•Lake San Cristobal Overlook: A short hike is required to view Lake San Cristobal but is worth the walk. The overlook offers a view of Colorado's second largest natural lake and surrounding peaks.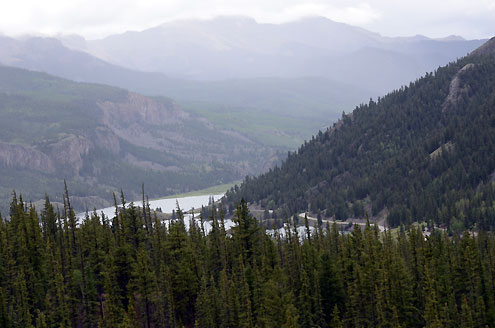 Lake San Cristobal
•Slumgullion Earthflow: This earthflow, a National Natural Landmark, caused the damming of the Lake Fork and formed Lake San Cristobal. It continues to move up to 20 feet a year.
•Windy Point Scenic Overlook: This overlook offers an unparalleled panoramic view of the northern San Juans, fourteeners, and many thirteeners.
•Spring Creek Pass: The Colorado Trail and the Continental Divide Trail cross the highway at Spring Creek. This marked site includes an informational kiosk, restrooms, and a nice place for picnicking.
•North Clear Creek Falls: Though it is not visible from the road, the cascade of water that appears almost magically out of a meadow at the end of this worthwhile detour will take your breath away. A short drive and walk are required to view one of the most photographed waterfalls in Colorado.
•South Clear Creek Falls: Those willing to travel off the beaten path will enjoy the breathtaking beauty of two waterfalls sharing the same name. One of the South Clear Creek Falls can be reached by way of the path from Silver Thread Campground. The trail to the other falls starts from Bristol Head Campground.
•Bristol Head: Named by a settler who missed his native Bristol, England, this distinctively shaped mountain is an imposing and impressive figure along the Silver Thread.
•Brown Lake/Rio Grande Overlook: On the side of the Silver Thread is an overlook of impressing beauty that showcases the Rio Grande River. At this overlook, look to the skyline and locate the Rio Grande Pyramid. North of the Pyramid is the Stony Pass area, where the mighty 1,885 mile Rio Grande River begins as a little trickle of water.
•Rio Grande Reservoir/Stony Pass: Just a few miles north of Creede is the turnoff for Rio Grande Reservoir, which is stocked with fish each summer and is open to boats. A little farther along the road is Stony Pass, a four-wheel drive only road that leads to Howardsville, an old ghost town just outside of Silverton.