Columnists
Maxey's
Jul 14, 2013
I am unusually not the kind of guy that does this sort of thing but tonight I'm on a tight schedule. It's half an hour before Maxey's Steakhouse in Childress closes yet my wife and two kids walk in as if the eatery just opened. Usually, I'm self conscious about visiting a restaurant so late when I know that the staff just wants to clean up and go home. Tonight, however, I didn't have much of a choice and the staff greeted us earnestly despite our tardiness.
I'm a fan of Texas country music and the first thing I noticed when I was walking to my table was a Kevin Fowler song playing on the in-house sound system. I soon found out that the music selection isn't at all random. A steady stream of red dirt music plays on the radio and along with the sensible decor, gives Maxey's a laid back, Texas Hill Country kind of feel.
The next thing I noticed are the menus. Being a photographer and one who continually delves into matters of visual and graphic design, I can tell by the layout, the colors, and the food photography that this place is serious about their customer experience. My suspicions were confirmed when Cassie, a bright and friendly employee, took the time to explain various menu items and make sure that we got what we wanted despite that they were minutes away from closing.
Maxey's menu is complete and varied. It has a nice mix of grilled meats, BBQ selections like brisket and chicken, as well as salads. My son settles on a burger while my wife and daughter each get a hamburger steak smothered in gravy and onions. After carefully considering the options, I opt for the grilled chicken with a baked sweet potato and asparagus.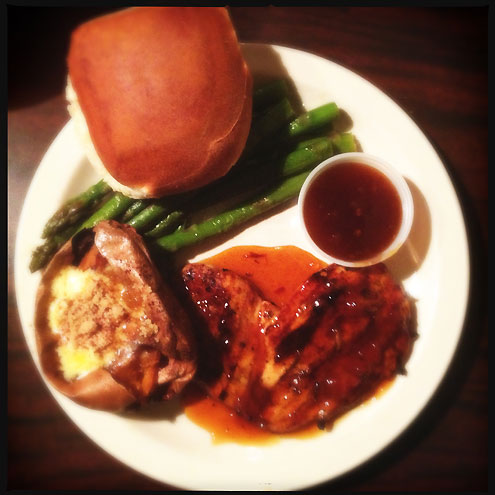 To start off, we order a couple of different appetizers - southwestern egg rolls and beef stuffed jalapeños. Both are good fare but I'm a fan of the complexity of flavors in the southwestern egg roll. Their decidedly southwestern flavor is punctuated with regional notes influenced by unknown seasonings, black beans, cheese, and grilled chicken.
In no time, the entrées arrive. Each is presented well and the smell of the food is inviting. I'm anxious to dig in to my plate - especially the baked sweet potato. I'm not much of a fan of white potatoes but in regards to the orange variety, I'm definitely a fan. Adequately baked and tender, the sweet potato is a rare treat for me and I savor each bite before moving on to the asparagus.
The menu describes the chicken on my plate as fire-kissed grilled chicken glazed with a sauce of chipotle, ginger, lemon & soy sauce. The description of the meal is complete and the flavor and texture of the chicken the doesn't disappoint.
Although its past closing time, the staff never once compelled us to speed up. Eating with kids can be a slow affair and despite our late arrival, we were as welcome as if we just walked in the door at first opening.
Even though I travel often and experience great eateries all over the state, I am glad Maxey's is close to home.