Front Page
Phil Blander selected as Artist of the Month at Bonham City Hall
Jun 14, 2013
Phil Blander has been selected as Artist of the Month at Bonham City Hall. His work is on display at City Hall located at 514 Chestnut, Bonham, Texas. You can also stop by the Creative Arts Center located at 200 West 5th Street in Bonham to see more of Phil's work.

"As a child growing up in New Orleans I saw that I had a gift that not many of us had," recalls Blander. "I could look at something and draw it. The first time that I had the nerve to slip away from home, around the age of ten or eleven, while my mother was at work, my art got a boost. I went to Jackson Square in the French Quarters and have never been the same since. Art had me locked: hook, line and sinker. I knew that was what I wanted to do. Never encouraged to go after my dream, it took a back seat until 1974. After four years in the Air Force I started taking Life Drawing classes at College of Marin under Kent Rupp and he started me back. Kent had something with art that I wanted and I went for it. Bonham and the Creative Arts Center also gave me a big boost once I got here after Katrina. I mostly work in black and white charcoal and that is because I started that way and I'm comfortable there. It also has something to do with three "Best of Show" in three years, that's called a 'three peat'."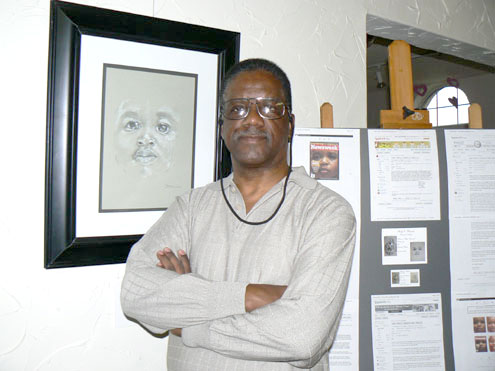 Congratulations to Phil and thanks to the Bonham City Hall for supporting our local artist.