Front Page
Hwy. 82/ 287 Sale a success
Jun 14, 2013
Bonham -- Shoppers traveled from all over Texas to grab up bargains at sales in Bonham last Saturday. Many stopped by the Bonham Visitor Center to see the trains, visit with the engineers and pick up a map of the local sales. There were 22 local sales plus many local business and Trade Day for them to enjoy. The crowd at the monthly Trade Day was large and sales were brisk.
Visitors joined in the fun from: McKinney, Denton Gainesville, Frisco, Aubrey, Plano, Richardson, Sanger, Arlington, Anna, Mount Vernon, Cisco, Gladewater, Gilmer, Franks, AR, Haraflo, AR, Baton Rouge LA, Fosston MN, Winnebago MN, Custer City, OK, Bokchita, OK, Grandfield Ok, Durant OK and West Nunlee, IL.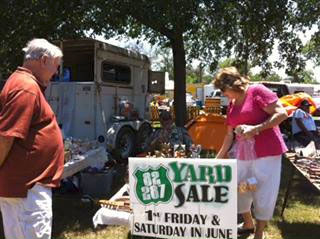 This event is sponsored by the Red River Valley Tourism Association and was well publicized all over North Texas and Southern Oklahoma. If you missed joining in the sales, start planning for next year. The Hwy. 82 Sale is always held on the first Friday and Saturday of June.