Local News
Time to start thinking about the Quilt Hop
Jul 5, 2013
Now is the time to plan for Bonham Quilt Hop! This year the Quilt Hop will be Bigger, Better and Longer. The fun begins with displays Friday July 26, 1:00 p.m. to 4:30 p.m. and continues with a reception at the Creative Art Center from 5:00 p.m. - 7:00 p.m. Displays will open Saturday July 27 at 9:00 a.m. - 4:00 p.m.
The Quilt Hop committee is again looking for people who would like to display their quilts or quilted items. This year we are also looking for baby quilts. If you have a quilt or a quilted item that you would like to display, please call the Bonham Visitor Center, 903-583-9830 to leave your name and contact information.
All quilted items need to be taken to the Bonham Visitor Center by Tuesday, July 23. You will need to fill out an information sheet about your quilt. All items may be picked up after the close of the show on Saturday, July 27
The Quilt Hop is happy to announce that we will have the very sought after certified quilt appraiser, Lisa Erlandson. She will be appraising quilts both Friday July 26 and Saturday July 27 at the Bonham Civic Center (armory). If you would like to have your quilt appraised call or come by the Visitor Center 327 N. Main Street and sign up for an appraisal appointment time. The appointments are given on a first come first serve basis.
This year quilts will be on display at the Creative Art Center, Sam Rayburn Library, Sam Rayburn House, Fannin County Museum of History, Fannin County Historical Society, Bonham Public Library, Bonham Senior Nutrition Center, Bonham Civic Center and the Bonham Visitor Information Center. TAPS will furnish transportation to the various Quilt Hop locations on Saturday, July 27.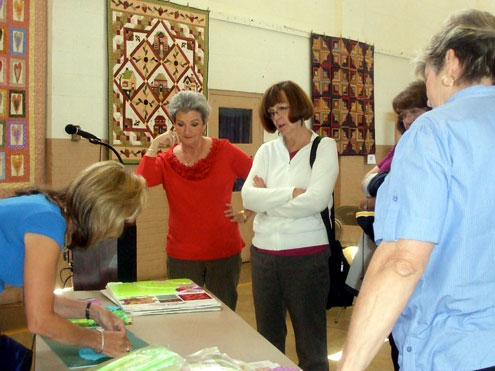 Come join the fun and hop along with us
to see the demonstrations, displays, vendors,
and play Fat Quarter Bingo.