School News
Dates announced for next Bonham High School Reunion
Jun 29, 2013
Plans for the next Bonham High School Ex-Students' Association "All-School Reunion" are underway and the "Reunion 2015 Committee" has announced June 12-14, 2015 as the dates to remember for it.
Looking at data from past reunions, BHS Exes have been meeting since 1938, when Sam A. Meade (Class of 1913) was the first President of the group. Following World War II, in the 1950s, the Exes started meeting every 5 years, and this will be the 14th such Reunion since that time. In 1985, due to the Reunion's increased interest, the BHS Ex-Students' Association was incorporated.
"We are excited about bringing our BHS Exes back to Bonham. There's nothing like a high school reunion to renew high school friendships, brag about high school accomplishments, talk about the speed (has he lost a step?) of Chief Warham, and just embrace in the purple pride that has influenced the life of every BHS Ex," stated Pam Thompson, current President of the group. "We're keeping the traditions of the reunion alive (registration, class parties, Saturday evening dinner and program, etc.) and plan to offer amenities such as online registration (with the option of PayPal) and other computer tools, such as Facebook and e-mail, for communicating with our ex-students. Each class has a representative who will be functioning as the liaison between their class members and our committee. The invitation to attend the Reunion is open to anyone who has attended BHS, regardless of having graduated."
The Reunion 2015 Committee is comprised of Pat Brown Broiles (Class of 1952), Barbara Bostic Cox (Class of 1961), Glenda Pace Sitzler (Class of 1969), Jim Bono (Class of 1981), Randy Pendergrass (Class of 2001), and Pamela Piott Thompson (Class of 1966).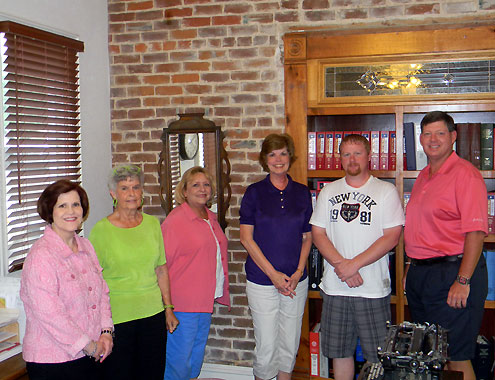 L-R: Glenda Pace Sitzler, Pat Brown Broiles, Barbara Bostic Cox, Pamela Piott Thompson, Randy Pendergrass, Jim Bono. photo courtesy of Dale McQueen, Fannin County Leader
More "BHS Reunion 2015" information will be given as we approach the dates of June 12-14, 2015. You may contact Pam Thompson at pamtwist@skytex.net if you need additional information at this time.