School News
Bonham's Aesha Sizemore selected for cheer squad at 2013 United World Games
Jun 10, 2013
Bonham's Aesha Sizemore is preparing for her first international flight and it's going to be something she will always remember.
On June 15, Aesha will board a jet for the transatlantic flight to Austria where she has been selected to cheer on athletes from across the globe at the 2013 United World Games.
Aesha is a 17-year-old senior at Bonham High School. She made her first cheer squad in third grade and has loved cheer her entire life. She cheered all four years and, for the first three years at BHS, she also played volleyball, basketball and ran track. However, her senior year she chose to focus on cheer only because that's what she wanted to do in college.
Aesha attended College Cheer Guide Recruitment Camp at DFW International Hotel where she was seen by 40 + colleges. She was immediately contacted by several colleges and has chosen Alderson Braoddus University, Philipi, West Virginia, which is where she will cheer the next four years. It was her college recruiter, Allison Shaw, that nominated Aesha for the United World Games cheer squad.
Aesha is a three-year National Cheer Association All-Amercian cheerleader, and with her competition team won a national title at the Dallas Cowboys stadium this winter.
Aesha takes gymnastics and teaches gymnastics at both Forman Gymnastics in Bonham and Gymnastics Sports Center in Sherman. She has advanced tumbling skills but takes the most pride in her jumps with Toe Touch being her favorite.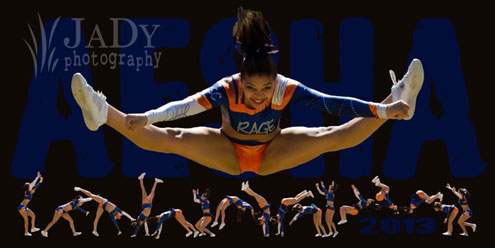 Qualifications for the United World Games were that aspiring cheerleaders must be 18 or younger, be a well-decorated member of a high school cheer squad, and have advanced tumbling / cheer skills. Once nominated, Aesha had to undergo a demanding tryout process that consisted of sending videos of tumbling passes, jump series and dance which was choreographed by United World Games.

Since nominees were cheerleaders from all over the US and military bases overseas, videos were the most comprehensive method to select the team. After all the videos were carefully studied by professionals, Aesha was chosen as a member of the Team USA Cheerleader & US youth sports Ambassador for the 2013 United World Games in Klagenfurt, Austria. Ten cheerleaders were chosen out of the hundreds that tried out.

The United World Games brings together thousands of athletes age 18-and-under from over 40 countries, all around the world, for a multi-sport event held in Austria's 2008 Euro Stadium. Aesha will fly into Venice, Italy and then catch a private bus to finish her journey to Klagenfurt, Austria. There, she will have five days of intense practice with the other cheerleaders. Athletes arrive on day five and on day six Aesha will perform at the opening cermonies for the World Games. Her team will then cheer at selective sporting events. Three days later Aesha performs at the closing cermonies, has one last party with her new-found friends and departs for the United States.

Having never flown internationally, Aesha is both very excited and understandably a little nervous about this 18-hour flight. However, she is thrilled about the opportunity to cheer in front of a crowd of 20,000+ people and be in a venue equivalent to the Olympics.

As someone who loves learning about international culture, Aesha is intrigued at the once-in-a-lifetime chance to stay in the Sport Complex with over 6,000 international athletes.

Since only 10 cheerleaders made the team, it is a great honor for Aesha, not to just represent Bonham but also the United States of Amercia. Right now, it hasn't been determined whether she will be traveling alone or with her parents, but either way is fine. Aesha loves traveling and she feels honored to spread her wings and experience international competition.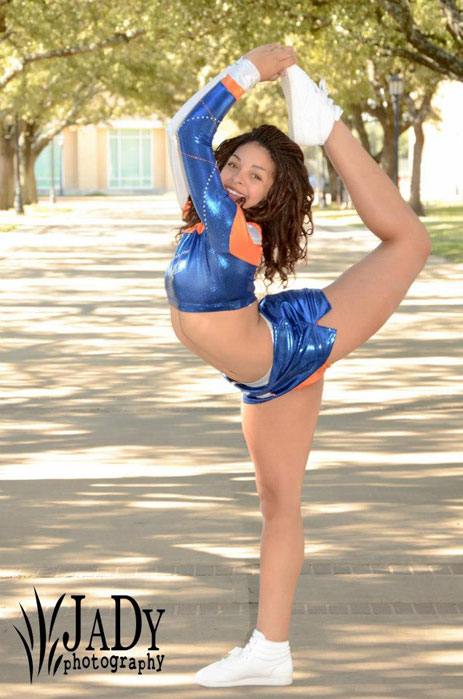 Aesha is the daughter of Susan and Malcolm and has one brother, Wesley Hamonds, who graduated from Bonham High School in 2009.