Local News
Taps Public Transit dedicates public bus passenger shelter: Morton Street Plaza Park & Ride officially opens March 26
Mar 26, 2013
Denison -- Officials from surrounding chambers of commerce will join representatives of both public and private sectors on Tuesday, March 26, 4:00 p.m. at the official opening of the first of several
bus passenger shelters on TAPS Public Transit routes in North Texas and Southeastern Oklahoma.
The park and ride shelter is located at 2300 W. Morton St., Denison in the Morton Street Plaza Shopping Center and serves the busy Red River Route between Texas and Oklahoma.
Morton Street Plaza Shopping Center owner, Myrtice Wilson, donated the shelter, the construction, and the land for the park and ride lot facility.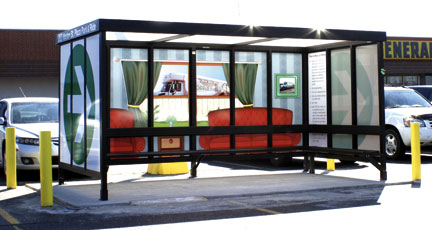 TAPS Public Transit CEO and Executive Director Brad Underwood said support from private citizens and business owners lets the transit agency locate fixed­-route bus stops at
centrally located and easily accessible spots along major thoroughfares.
"Ms. Wilson has been very generous by not only offering space in
her shopping center for the shelter and the dozens of vehicles that
park there daily, but she wanted to make sure the shelter itself was
first class," said Underwood.

The made-in-USA steel and glass structure can accommodate up to 12 people protecting them from sun and weather. Since its launch last September, the Red River Route has tripled in ridership and TAPS Public Transit officials are enthusiastic about continued growth in the coming year.
Alliances with private employers including Durant-based Choctaw Casino Resort, Delaware North, Alorica and ETS-Lindgren, offers workers in Texas a very cost-effective alternative to single-vehicle commuting.
A revenue-generating promotional partnership with Choctaw Casino Resort also offers a safe, dependable, comfortable ride for Texas residents visiting the property for entertainment.
Anyone can ride the Red River Route. Trips cost as little as $1 each way. The Red River Route can be boarded at TAPS Main Office, 6104 Texoma Pkwy in Sherman; Morton St. Plaza, 2300 W. Morton St., Denison, or Choctaw Casino Resortfs Travel & Tour Bus Entrance.
Route information and details on the location of all park and ride lots is available on the Internet at www.TAPSBUS.COM or by calling (800) 256-­0911.